Representing the trilogy of your relationship: the past, present, and future, the charming three-stone engagement ring is a stunning heirloom for beautiful women forever. If you're frantic about this magnificent three-stone design, browse our top three-stone engagement rings now.
1. You Are My Angel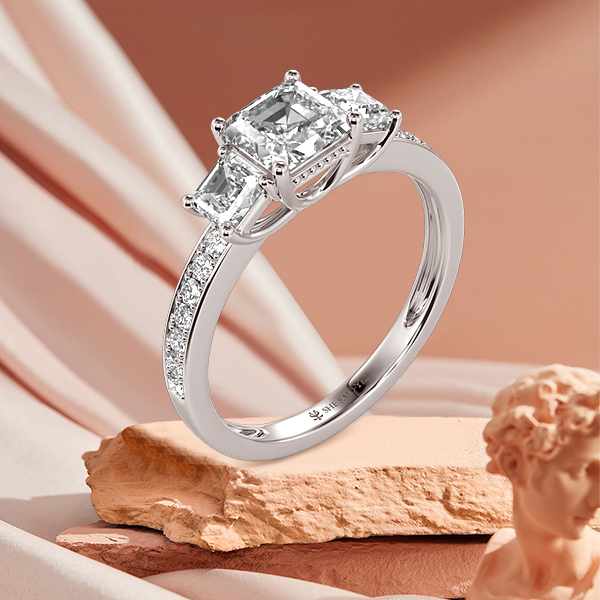 Extremely elegant. The first three-stone engagement ring features a trio of brilliant princess-cut stones set up at the center of the shank. And a row of dazzling round stones accented along the band, reflecting unparalleled light onto the center stone. What's more, detailed in the intricate milgrain embellishments, this fascinating piece will provide a more stunning and graceful sparkly look to complete your amazing attires. Finally, this simple yet well-crafted ring is the perfect choice to proclaim your love and leave a unique impression on your love.
2. Sweet On You
For the soon-to-be bride searching for effortless radiance, look no further than this unique three-stone engagement ring from SHE·SAID·YES. A brilliant round center stone is nestled within four-prong claws. Accented with two sparkling round stones on each side for extra shimmer. And the highly buffed shank is designed with a tapered style to accentuate the brilliance of the center gemstones. Also, elongate your finger in a graceful way. Available in various metallic colors from white and gold to rose gold. Even with multiple stone colors beyond your imagination, this ring represents a woman of effortless grace and taste. And will lead you to taste authentic modern jewelry aesthetic.
4. Always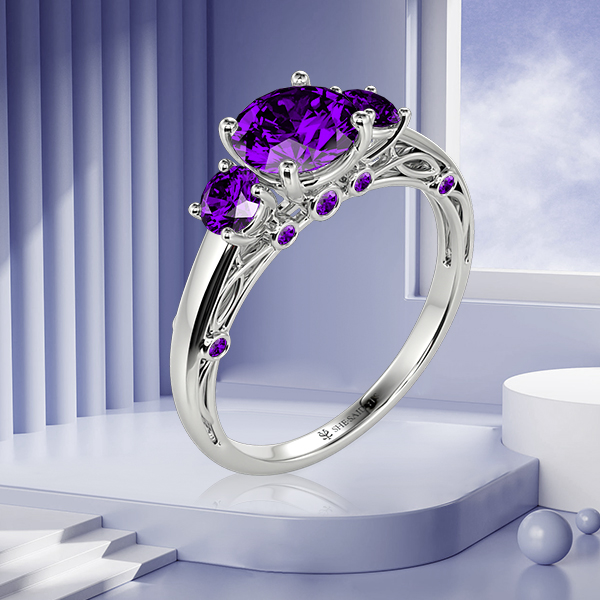 The third, striking three-stone engagement ring will impress her deeply. The delicate design of the gallery features a trio of round stones, bringing this fabulous ring to new heights. It embeds a glimmering round center stone and flanks two gems of smaller size aside in polished prongs. Set on the buffed shank with a distinctive design, it presents a retro-style filigree intertwined each other with gems ornaments, enlightening the whole beauty. Offering you extreme comfort with the flat edges, this magnificent ring will be her favorite accessory. I'll always love you and be there forever till the heavens burst, and the words don't rhyme.
4. The Light of My Life
Infused with a vintage flair, the fourth three-stone engagement ring offers an elegant style for any bride-to-be. On the one hand, a cushion-cut center stone stands in the center. Shining brilliantly surrounded by a trillion stones on each side creates a dazzling haze on your finger. On the other hand, with a row of scintillating round gems accented along the shank, add an art deco touch to meet your dream fashion. This lovely design and brilliant stones are sure to capture her heart!
5. My Light At Night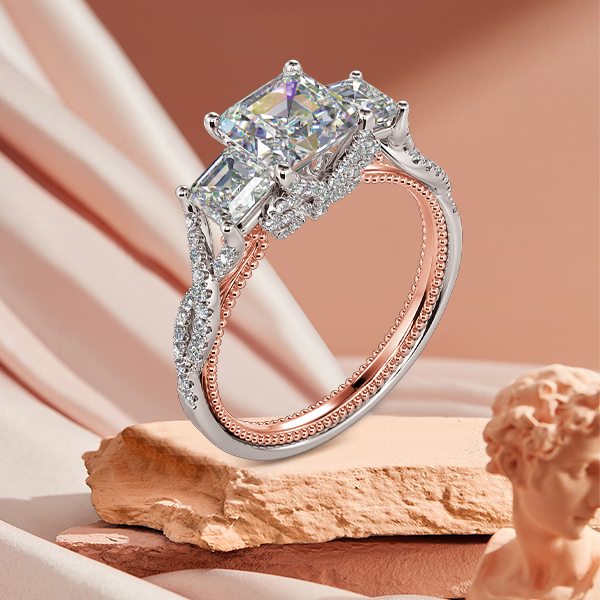 The last piece is a unique three-stone ring from the luxurious Aurora Collection that offers breathtaking beauty. Flanked with smaller double stones aside for added sheen, a sparkling Asscher-cut stone shines gorgeously in the center. Paved with numerous glittering round-cut gems, the twisted shank maximizes the center stone's brilliance. Besides that, unique for the exquisite symbol of the SYS logo and intricate milgrain details, this refined treasure showcases the ultimate craftsmanship of SHE·SAID·YES. Lending a vintage appeal to such aesthetic design, it's a timeless testimony to the moment she said yes.