"Every leaf speaks bliss to me, fluttering from the autumn tree." The golden autumn attains its charm from the cool breeze and a touch of bleakness. For newlyweds, falling leaves, golden sunshine, and vibrant flowers are best for a fantastic wedding and to evoke romantic memories. SHE·SAID·YES has put together this comprehensive guide to fall wedding flowers to help you plan a wonderful wedding.
Pure And Fresh Style – Asteraceae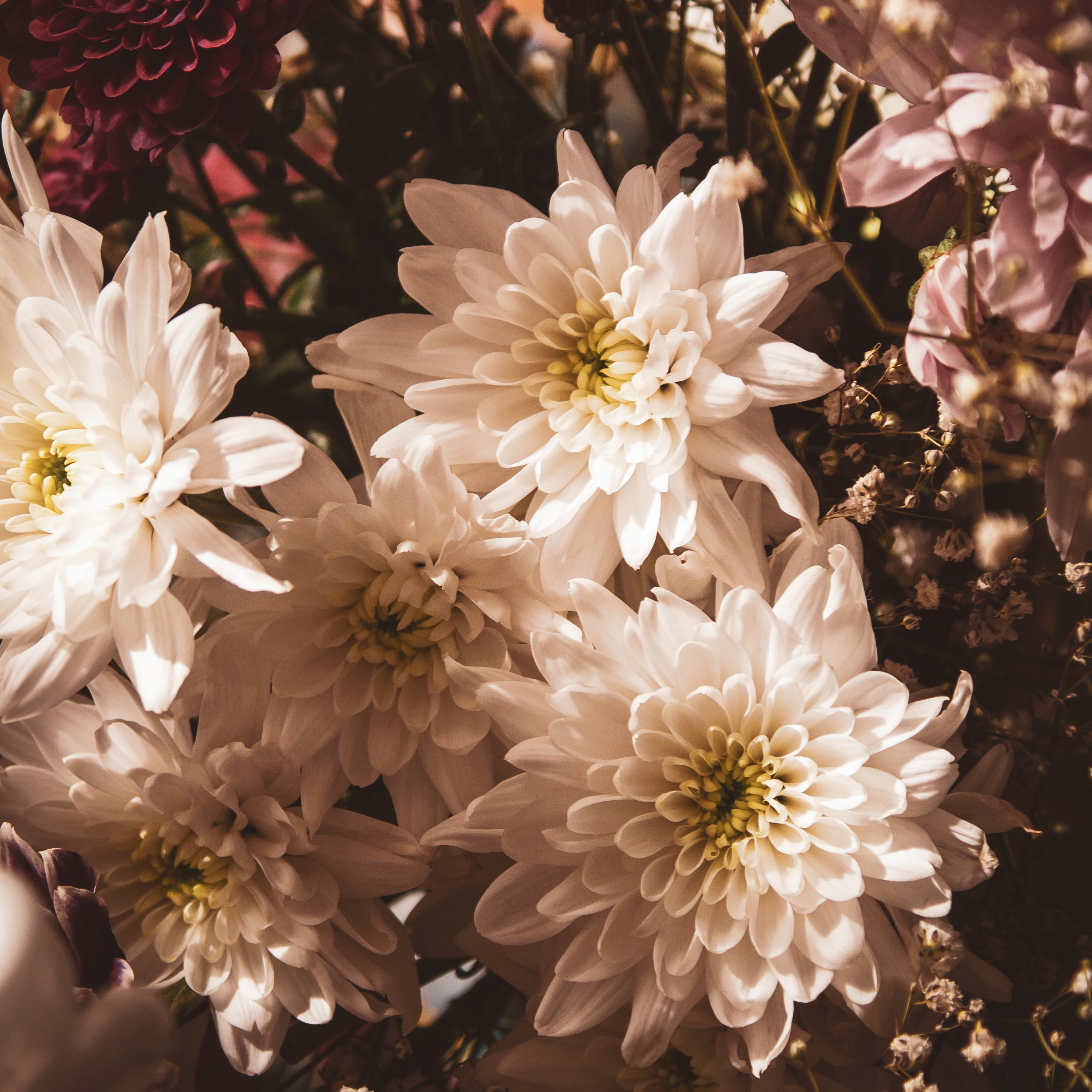 Known as the most popular seasonal flower in November, the elegant chrysanthemum from the Asteraceae family blooms naturally throughout autumn, making it perfect for your wedding. Whether your wedding style is rustic, ornate, or casual, these magnificent chrysanthemums will win your heart. And provide an impressively eye-grabbing effect for their vibrant colors.
Except for the classic Chrysanthemum, other flowers in the Asteraceae family, like Aster, Marigolds, and Zinnia, are also favored for autumn weddings. They appear in diverse shapes and colors. Aster gets its name from the Ancient Greek word that means star, referring to the shape of the flower head. While the Zinnias range looks from a single row of petals to a dome shape in any color, their unique appearance will add a touch of ingenuity to your wedding.
Wild chrysanthemums are native to East Asia and northeastern Europe, with white or yellow hues naturally from ancient times. However, with the growing advanced horticultural techniques, they have been cultivated into a variety of colors. In addition to traditional yellow, other colors are available, such as pink, purple and red. Not only the colors but shapes also derive into diverse genres. Ray-like florets, daisy-like, decorative flower-like pompons, or buttons could create layered beauty to embellish every corner of the wedding venue.
Prosperous Romance – Dahlias
Dahlia is a genus of bushy, tuberous, herbaceous perennial plants native to Mexico and Central America. And also one of the most welcomed flowers in autumn weddings. Once planted in the earth, it typically takes about eight weeks to start blooming from midsummer through autumn.
The lush-bloomed dahlias are close relatives of chrysanthemums. So they also have multiple colors and shapes for florists to create a gorgeous wedding bouquet or the wedding aisle. But what makes dahlia unique is its exquisite petal folds or ruffle-brimming appearance. In addition, this sort of bloom is water-sensitive and prefers a cool environment. Hence, it protects against rustling winds and gradually-decreased temperatures, perfect for autumn weddings.
Classic Autumn Wedding Friend – Roses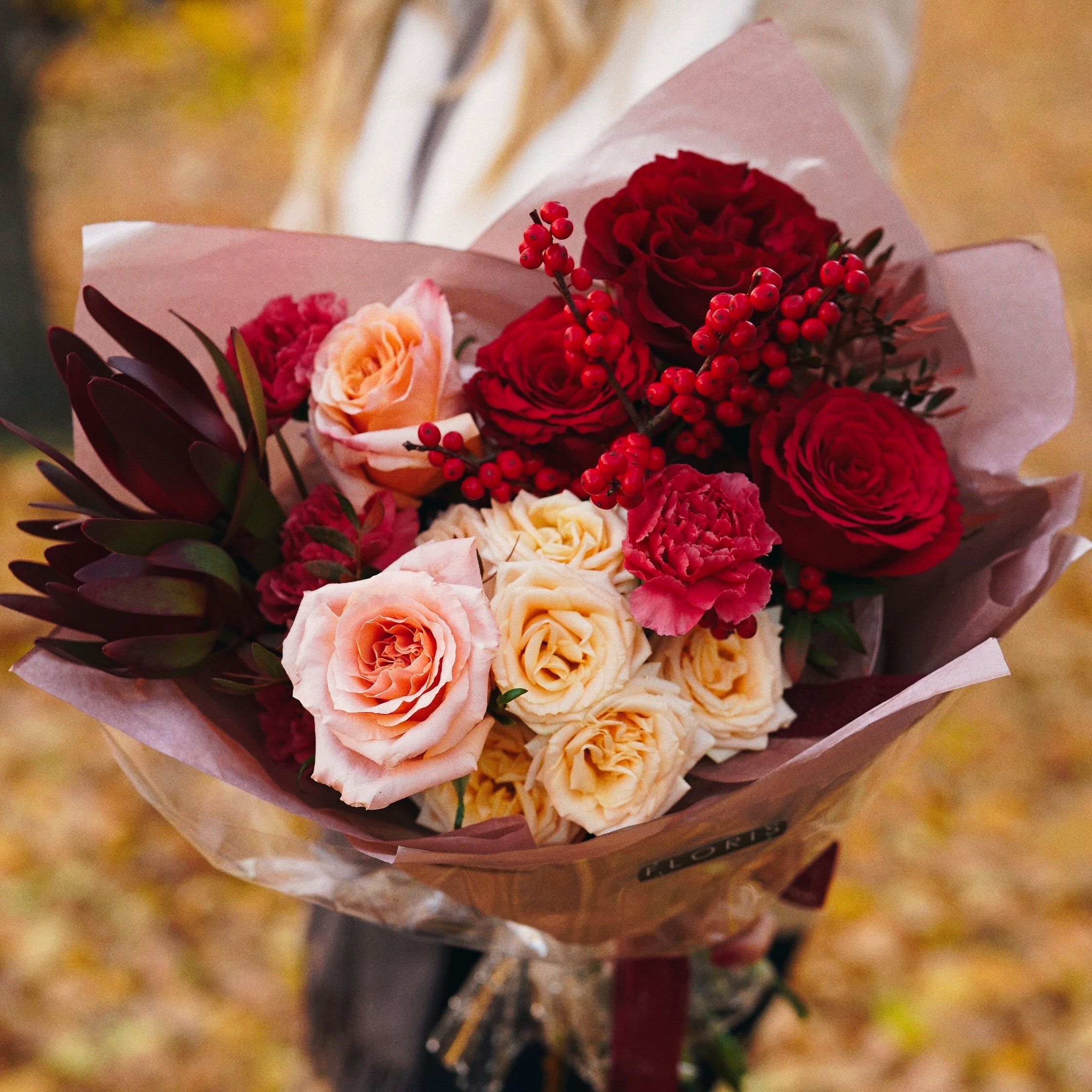 As the diamond in the garden, the gorgeous rose has always been the most popular flower for any time. Its lovely layered petals, vibrant colors, and fragrant aroma impress anyone who sees it.
Roses bloom between late spring and early autumn with over three hundred species and tens of thousands of cultivars. Varied in size and shape, they're large and showy, with numerous colors ranging from white, blue, and pink to any hues beyond your imagination. So, roses can easily satisfy all your requirements, whether you're looking to present an entirely warm autumn vibe or break up the ordinary autumn wedding with bold and bright shades.