There is nothing more significant than a joyful and grand wedding. A wedding is the only thing full of happiness and enjoyment to commemorate the born of a couple. Now, let's check these world wedding traditions with SHE·SAID·YES!
Norway
There are various wedding traditions in Norwegian weddings full of interest. In contrast to wedding dresses in the United States, newlyweds in Norway have their unique collection of traditional clothing and accessories.
"Bunad" is a traditional Norwegian folk costume for men that is becoming increasingly popular in modern times. It's pretty complex, combined with silk shorts, short pants, stockings, a vest, and a coat. Always with an exquisite and colorful design. While women's wedding attire is unique for their one-of-a-kind crowns. This special crown is in silver or gold. They have many dainty embellishments dangling around. Therefore, when the bride moves, they make a clinking sound, which is thought to drive away evil spirits.
Another interesting wedding tradition in Norway is their unique wedding cakes. Called Kransekake, this distinctive cake is a tower cake. It is an almond-based ring cake stacked in layers to form a pyramid. You can decorate it with icing, fruit, and anything you want.
Egypt
Although the Christian culture influences people in Egypt, many other local people still tend to prefer traditional Arabic weddings. The newlyweds will hold their wedding at a church or mosque. The Egyptians will exchange their rings like Americans. At the engagement, they wear their ring on the right hand. But on the wedding day, they move them to their left ring fingers. Reflecting the infinity, the ring is a sign of their commitment.
Like India, Egypt has its night of henna party called "laylat al-hinna." During this party, all the bride's sisters, close friends, and cousins meet at the bride's house the night before the wedding to celebrate this big day. They'll spend hours singing and dancing. And tattooing the bride's hands and feet with elaborate henna designs wishing good luck and fortune.
Besides, Egyptians often have an active parade called "Zaffa." The newlyweds depart to the groom's house, and many joyful guests will keep them company with singing and dancing. The procession always with traditional music and belly dances.
Wedding Traditions of Vietnam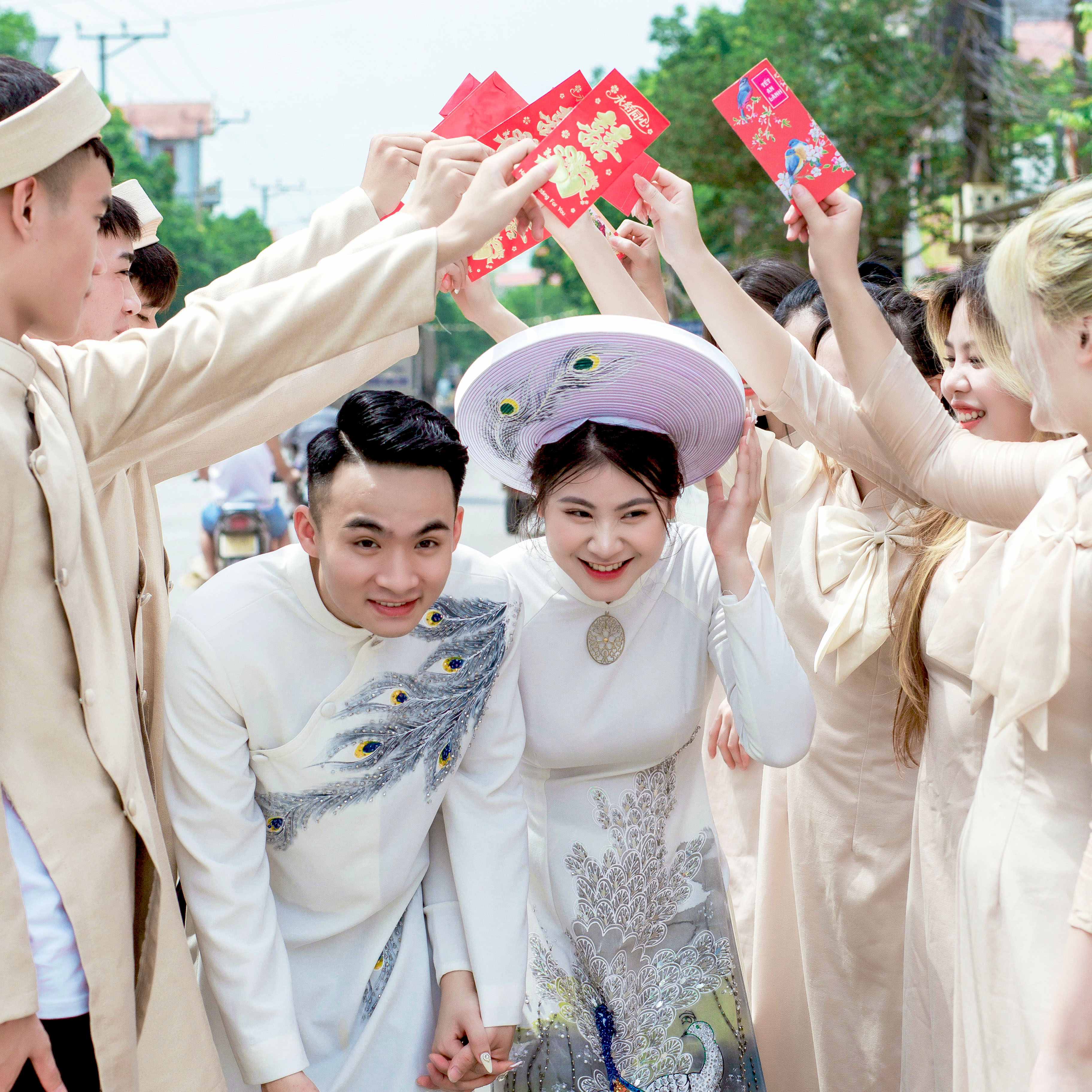 The traditional Vietnam wedding attire is "áo dài." The bride needs to wear a red headpiece, and the groom wears a blue one. This is a kind of open-top turban made of concentric layers of fabric. Also, the family of the couple or the wedding guests could wear these beautiful outfits to celebrate together. But the red, golden, and pure white colors are often the best choices for the newlyweds, especially on the wedding day.
At this point, he must serve tea to the bride's parents, greet them, and make an eternal and honest commitment to his marriage. This tea ceremony is "Vu Quy." After that, the newlyweds should make sacrifices to their ancestors, introducing the groom to the bride's ancestors. Finally, with the custom of lighting candles as a bond, the newlyweds light the dragon and phoenix candles.