As the most sought-after engagement ring style, halo rings have captivated the hearts of modern couples with their irresistible charm and captivating brilliance. To assist you in finding the perfect ring, we at SHE.SAID.YES proudly present our curated collection of best-selling halo engagement rings. Join us on a journey to explore the top five dazzling designs that have emerged as favorites in the first half of this year.
Top 5 Addicted To You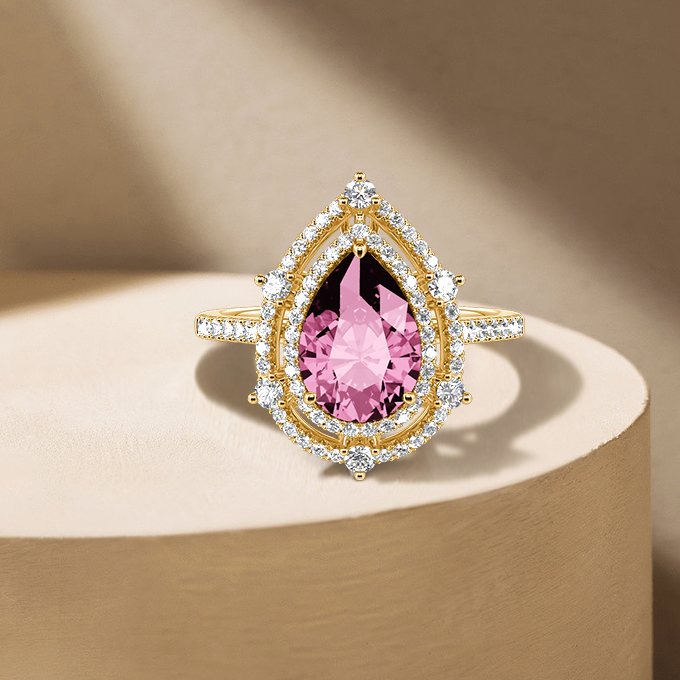 Just like the sun's radiant rays illuminate every corner, this halo engagement ring sparkles and captures attention. Its exquisite design boasts a mesmerizing double row of brilliant halos, accentuating a captivating pear-shaped center stone. Meanwhile, light dances and mirrors throughout, unveil an unparalleled display of brilliance that never fails to mesmerize. Additionally, the pear shape carries a profound symbolism, representing the tears of joy accompanying the precious union. This ring effortlessly exudes a timeless elegance that leaves a lasting impression.
Top 4 Time After Time
This sparkling engagement ring epitomizes eternal love, embodying the everlasting bond between two souls. Firstly, its enchanting beauty lies in the shimmering pear-cut stone placed at its heart, embraced by a halo of glistening round rocks. Meanwhile, the meticulously paved shank adds to its allure, casting an irresistible allure and captivating charm. Say "yes" to your true love with this timeless treasure, and embark on a future filled with love and cherished memories.
Top 3 Vision Of Love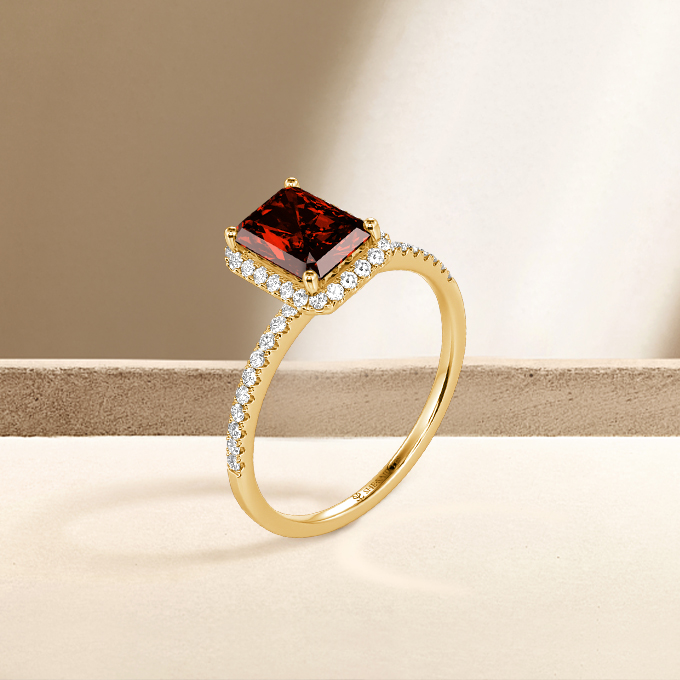 Celebrate the most significant moment by surprising her with this stunning halo engagement ring. Its exceptional design features a dazzling emerald-cut stone gracefully placed at the center, adorned by a shimmering halo frame to enhance its beauty. Furthermore, the perfectly arranged row of paved accents along the shank adds an extra touch of elegance. Moreover, the ring's mesmerizing luster reflects the glamour and sophistication it brings to your love story. From the day you met her, your vision of love has been redefined, and this ring symbolizes the continuation of that beautiful journey.
Top 2 Cheek To Cheek
This exquisite halo engagement ring exudes elegance and brilliance, making it a perfect choice for your beloved. The pear-cut center stone is surrounded by a halo frame, creating a mesmerizing display of radiance that symbolizes your love. Besides, the paved shank adds a touch of femininity and grace, without being overly extravagant. As you gaze into each other's eyes and feel your cheeks pressed together, you all desire to have your beloved sleeping by your side.
Top 1 You Are My Everything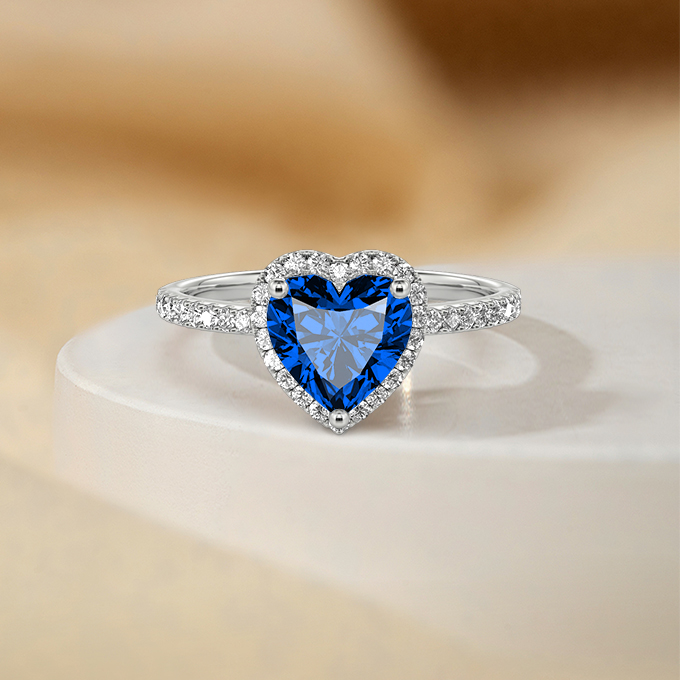 This heart halo engagement ring showcases a captivating design, featuring a center stone surrounded by a circle of sparkling stones. The intricate arrangement not only emphasizes the beauty and brilliance of the center stone but also makes it the focal point of the ring. Moreover, its exquisite and elegant design reflects the loyalty and commitment you have for each other. You are everything to me; giving my heart to you is the most romantic and meaningful gesture in my life.