In all ring settings, side stones are always the best way to enhance the brilliance of the center stone. The minimalist side stones could easily meet your modern fashion taste and elevate your charm simultaneously. Meanwhile, the exquisite side stone rings offer you a glittering sophistication to take your look to the next level. If you're a big fan of them, take a look at the top side stone rings from SHE SAID YES.
I Want To Hold Your Hand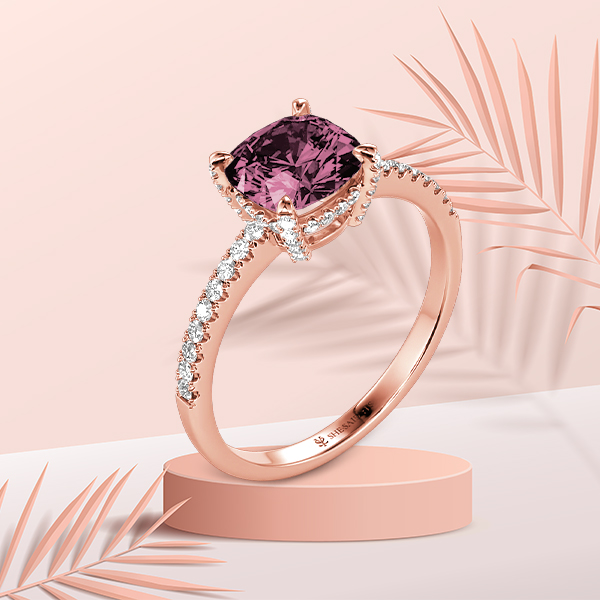 The first piece is dainty and minimalist. A unique design of the head makes this side stone engagement ring looks so distinctive. For instance, the scintillating cushion-cut center stone is held in four precious claws. Decorated with a series of brilliant accents for added sparkle. And a string of tiny, shining round stones aligned in a pavé setting neatly. Offers you an impeccably elegant half-eternity band. So hold her hands and walk by her side every day with this ring.
Love is Light
Simple and classic. The second gorgeous ring is a timeless treasure that every bride pines for. On the one hand, its modern design endows a traditional style. A glistening round-shaped stone in the highly polished prongs shining in the center. On the other hand, to enhance the entire brilliance. A row of shimmering round stones is paved along half of the shank. Accentuating the dazzling haze of the center stone. This one pair nicely with a multitude of our wedding bands. Promise to love her with this ring as long as the stars twinkle in the sky, as long as angels are there up high.
Be Full Of Tenderness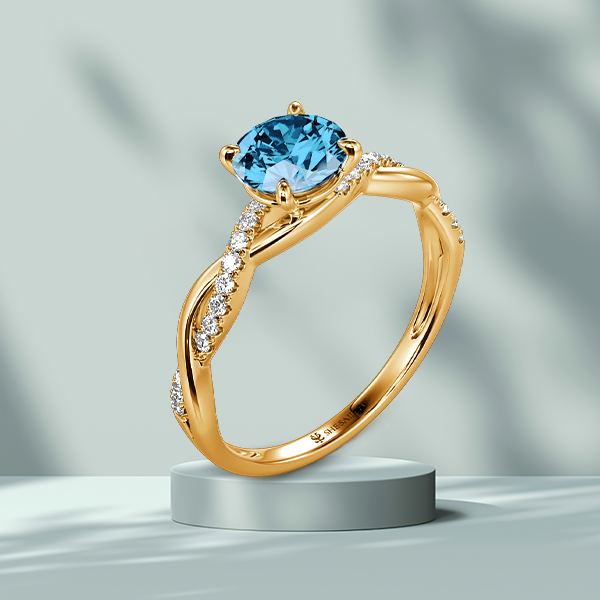 Gracefully presenting an exquisite appearance. The third side stone engagement ring catches an elegant cross-over design to reflect the divine beauty of the jewelry. It features a brilliant round-cut center gemstone with unparalleled radiance in four prongs. And set on the sleekly twisted shank paved partially with tiny stones for added shimmer. Moreover, this sophisticated side stone engagement ring also presents a modern sensibility: pure shapes and contemporary look define its compelling charisma and sculpt the message of eternal love. Allowing maximum light sparkles from every angle, it's an ideal option for almost every woman.
Never Be Apart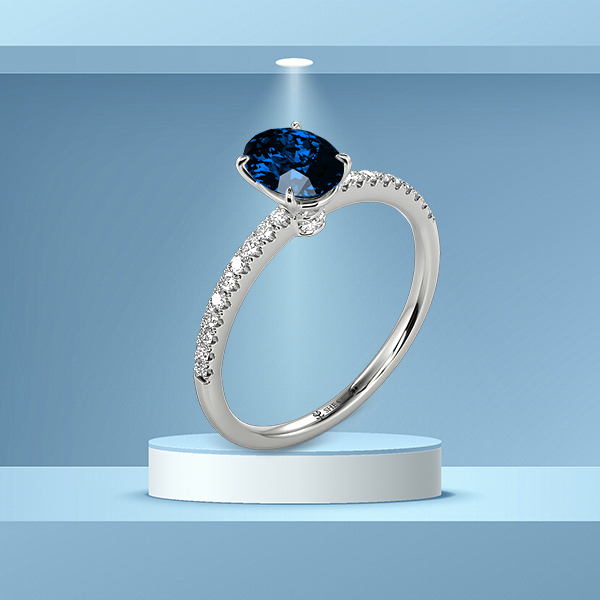 The oval cut is one of those cuts that can incredibly magnify the gemstone's brilliance. The fourth stunning oval-cut side stone engagement ring will lend a fascinating glamour to your looks with a breathtaking sheen. With an eye-grabbing oval-cut gem set tidily in buffed claws at the center above, a range of tiny round-shaped stones is paved on the sleek-finished shank. Besides, dotted with two small shining stones on the gallery for each side adds a hint of uniqueness to this piece. In the end, available in various stone colors and multiple metal hues from gold to white, its elegant appearance, and all-day comfort will follow you around for the rest of your life.
The Starry Night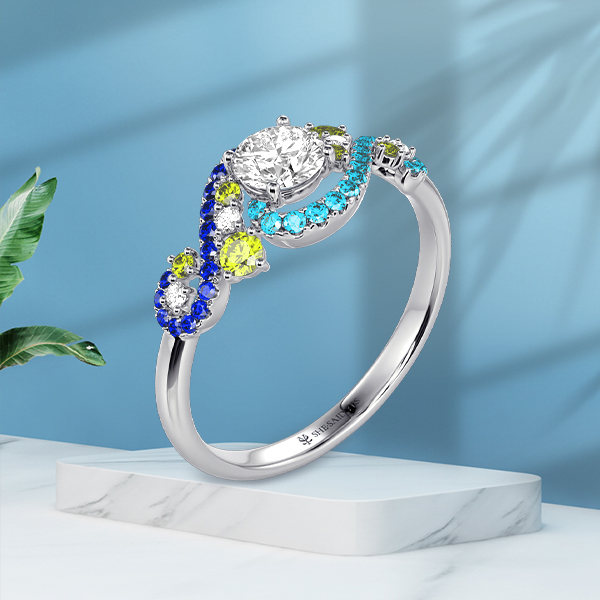 Drawing inspiration from the renowned painting worldwide—Starry Night by Van Gogh, the magnificent final ring showcases a stunning display of style and craftsmanship. Combined with a variety of colorful gemstones in light blue, midnight blue, yellow gold, and white shades, it features a sparkling round gemstone in the center surrounded by delicate scrolling ribbons paved with stones inside. In conclusion, depicts a premium miniature version of Starry Night with diverse-sized gems decorated aside; this piece of work reminds us to trust our dreams and not believe the world's critics.