Want to surprise her with a great and sparkling proposal this Christmas and promise her forever love and passion? Then a high-end bridal set will be your go-to option. A stunning engagement ring will keep her with you, and an exquisite wedding ring will bond the future of both of you. Come and check this carefully prepared guide!!!
Ever Since I Met You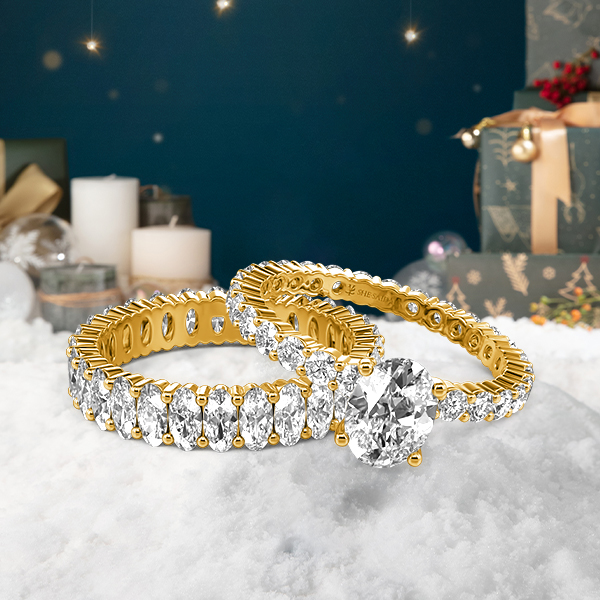 Bring out your inner romantic! This gracefully adorned bridal set is a perfect vision for the classic bride. Plus, the charming eternity design of this set maximizes the light greatly. Our stunning engagement ring showcases a huge oval cut stone set up tall on the multiple surrounding side stones shank; Your eye will be immediately drawn to the excellent oval cut center stone; it is an absolute stunner. Moreover, the mirrored matching bands perfectly complete the look. Fine jewelry always elevates your beauty.
Stand By Your Side
Romantic sense with endless elegance, this appealing artwork is ideal for everyone in love in this romantic season. Between the mountain silhouette of coordinating bands in partially shimmering pave, the center stone gleamed with its refined beauty. Also, the highly buffed metal combined with shimmering accents presents a magically layered appearance to meet the modern feminity. The elegantly three pieces add radiance and beauty to each other, creating a magnificent glam of everlasting love. This attention-grabbing bridal set perfectly achieves every angel's dream.
Call Of The Ocean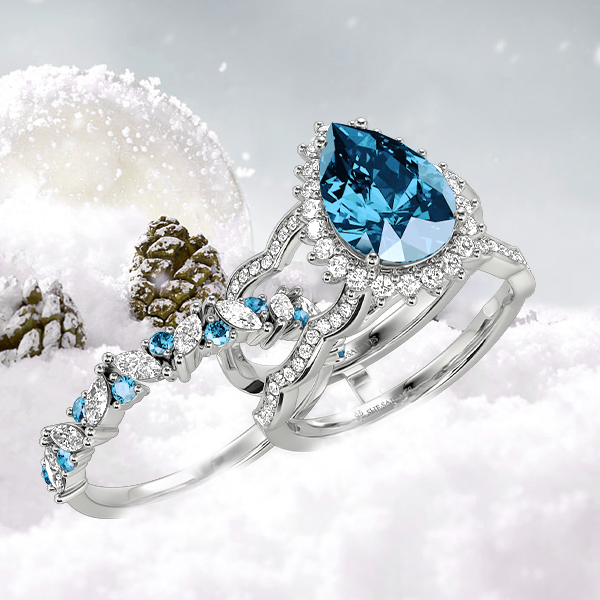 Reveal the admiration for your dearest; this cherished ring will bring unparalleled glam and gorgeousness to women. Firstly, set with the shining pear-cut stone in the center wrapped by a glistening halo, it sparkles on the gracefully wavy shank. Secondly, by matching the band accents with marquise and round-cut stones arranged in beautiful clusters, this interchangeable bridal set will be the best piece for making a proposal. Finally, our high-polish thin metal allows in gold, white gold, and rose gold; you can customize it with colored gemstones.
Fancy Bridal Set – Cheek To Cheek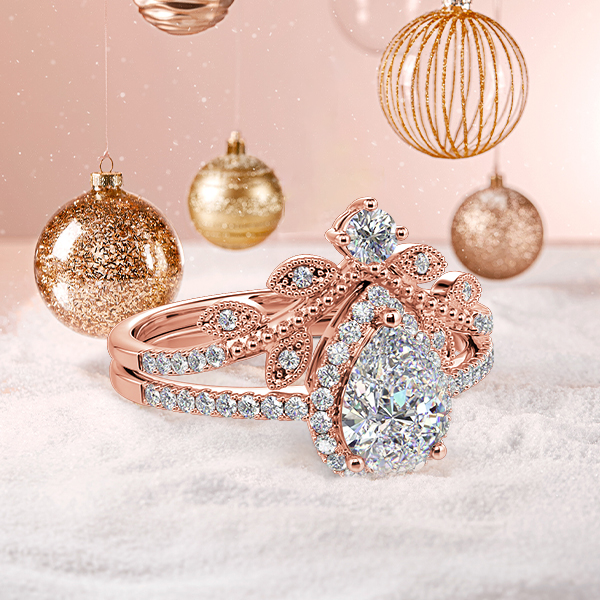 With an exceptional level of design and shimmer, this vintage-inspired bridal set is an elevated choice for your beloved. A pear-cut center stone is wrapped in a halo frame to shine your love. And the glittering paved setting along the slender shank adds more sparkle to your look. Additionally, the sophisticated leafy and floral crown design runs along with the matching band hugging the center stone, reminding you to enjoy the natural joy in life. The such extraordinary design makes it the perfect combination for your most important ring.
Classy Bridal Set – Flowing To My Heart
Uniquely designed with elegance, this bridal set presents a brand-new attraction with a future sense on your finger. With a fanciful design, the flowing bypass shank crafted in highly sleek metal gently holds the brilliant round gem in the center. Matching a polished curvy band completes its balanced and perfect wave outline. Creating a fascinating flowing stream look, its refined beauty with glowing brilliance will be your treasure.