Planning a wedding in the delightful fall season? It's an enchanting time of year filled with vibrant colors and cozy vibes. When it comes to choosing the perfect dress for your autumn wedding, there are a few things to consider. Today, SHE.SAID.YES will assist you in navigating through some essential tips to help you find a dress that not only suits your personal style but also embraces the beauty of the fall season.
1. Consider the Weather
Autumn weather can be unpredictable, so it's crucial to consider the temperature and potential conditions on your special day. If there's a chance of cool or chilly weather, opt for your fall wedding dress with long sleeves or heavier fabrics. You can also add layers like a wrap, cape, or bolero jacket. These additions will not only keep you warm but also add an elegant touch to your ensemble.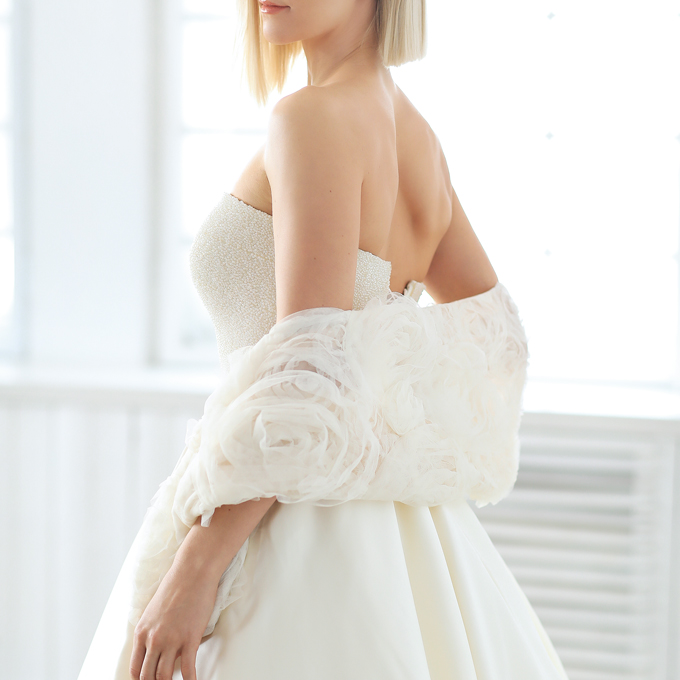 2. Embrace Autumn Colors
Fall is renowned for its rich and warm color palette. You can incorporate these hues into your dress to create a stunning visual impact. For example, consider shades like ivory, champagne, blush, or even deeper tones like burgundy or navy. Besides, you can also choose a dress with colored accents or go all out with an entirely colored gown. Embracing these autumn colors will infuse your look with the spirit of the season.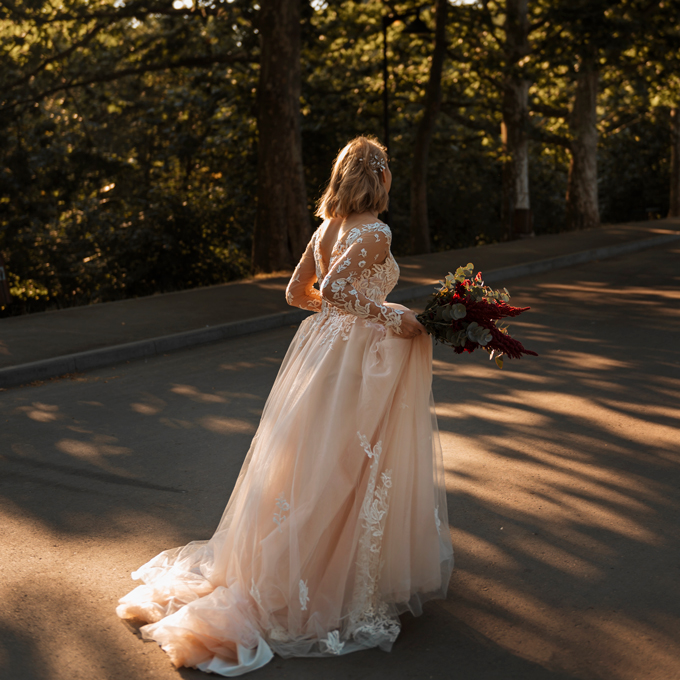 3. Explore Fabric Options
The fall season provides an excellent opportunity to experiment with heavier fabrics that exude warmth and elegance. Fabrics like satin, velvet, or brocade are perfect choices for fall wedding dresses. Their luxurious textures will not only keep you comfortable but also add a touch of sophistication to your attire. Additionally, lace is a popular option for fall weddings, as it brings a romantic and timeless element to your ensemble.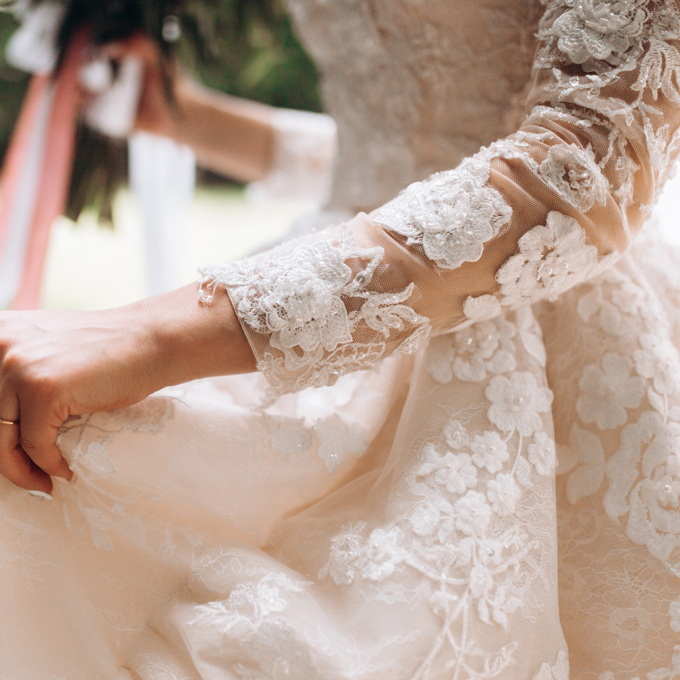 4. Pay Attention to Details
Incorporating dress details that complement the fall season can elevate your overall look. Look for dresses with intricate floral appliques, beading, or embroidery that evoke the natural beauty of autumn. These delicate touches will add a whimsical charm to your dress. Moreover, for those seeking a touch of drama, consider dresses with illusion necklines, off-the-shoulder styles, or deep V-necklines. These features will make a bold statement while still capturing the season's essence.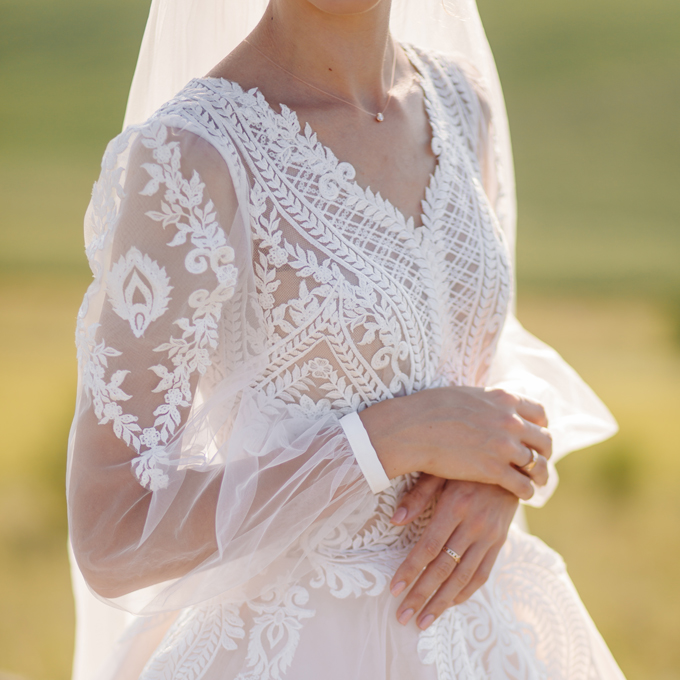 5. Length and Silhouette
When choosing your dress's length and silhouette, consider your style and the fall season's aesthetic. For a classic fall look, a floor-length gown with a full skirt or an A-line silhouette is a timeless choice. This style will exude elegance and grace as you walk down the aisle. On the other hand, if you prefer a more modern or relaxed style, a tea-length dress or a sheath silhouette can be a perfect fit. These options offer a contemporary twist while embracing the season's enchantment.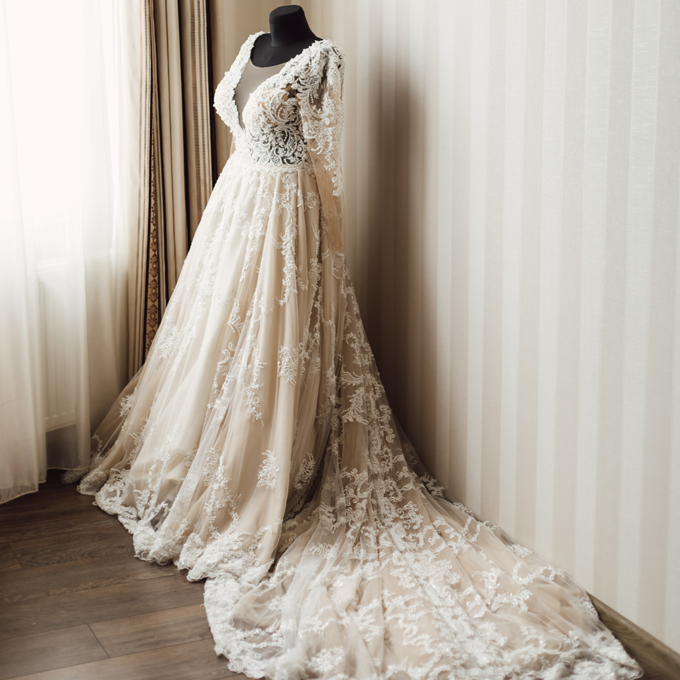 6. Accessorize Appropriately
To complete your fall wedding dress look, don't forget to accessorize thoughtfully. Consider adding a statement belt to accentuate your waistline or a cozy shawl. Or, add a cape to keep you warm during outdoor ceremonies. Besides, a vintage-inspired headpiece can add a touch of old-world charm. At the same time, seasonal accessories like a floral crown with autumnal elements can enhance the overall ambiance of your ensemble. Remember, the right accessories can elevate your look and tie everything together seamlessly.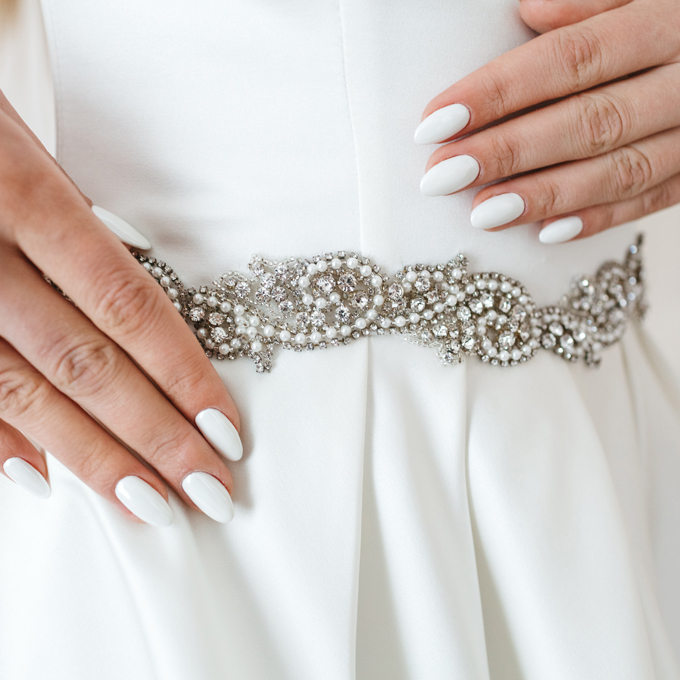 Choosing the perfect dress for your fall wedding is an exciting opportunity to embrace the beauty of the season. By considering these factors appropriately, you can create a stunning look that perfectly suits the enchanting ambiance of your autumn celebration. Showcase your unique style and create unforgettable memories on your special day.