After a happy and glorious Christmas, everybody will be full of joy and excitement to welcome the arrival of the new year. Imagine you're at a lively new year party, chatting with your friends with a glass of wine in your hand; nothing is more shimmering than a fine piece of jewelry to reveal your beauty. Our HUG ME Collection captures the cutest animals in sophisticated accessories sure to win your heart!
My Furry Friend
The cutest animals are always the best things to warm up one's heart. SHE·SAID·YES captures these lovely little creatures and transforms them into refined jewelry to showcase our love and sympathy for animals. Firstly, don't be shy to express your love to your best friend- the cat. Our delicate cat-inspired ring is designed with high-end craftsmanship. Such a piece of dainty treasure features a glittering round center stone set in an exquisite wave-adorned setting. And a vivid kitty aside, stirring its gloss softly. Presenting a flashy look with an amiable vibe, it's the best gift for yourself or someone you care about.
Bear Hug
Nifty and adorable. The second cute and dainty ring from Hug Me Collection is the must-have piece for your jewelry box. It features a sparkling round-cut stone in the middle, set by precious prongs neatly and wrapped by a row of shimmering beadworks exquisitely. Besides the dazzling center stone, a lovely and sophisticated polar bear stands aside, embracing the center sparkle tightly. Moreover, the well-crafted shank in a tapered design focuses all the attention on the middle. With this sweet little creature on your finger, a good mood will keep you company all day.
Gentle Kiss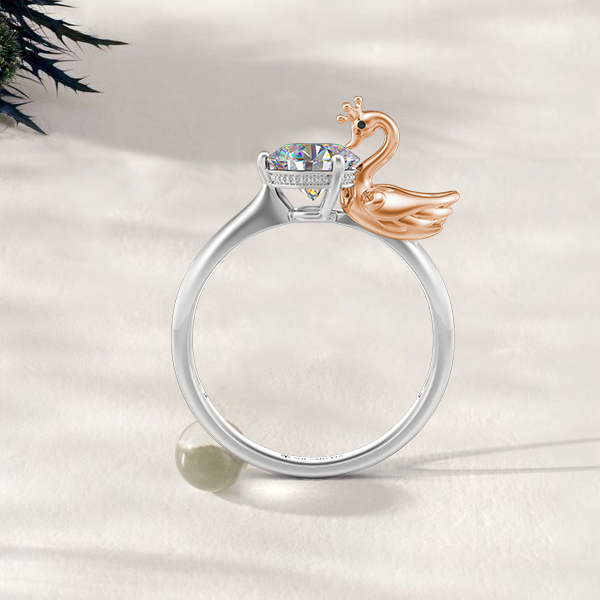 Keeping you forever company with this delicate engagement ring from our Hug Me Collection. Blending cuteness with elegance at the same time, this unique ring will be one-of-a-kind in your wardrobe. With a scintillating round gem studding in prongs of the middle, this striking ring features a graceful king swan aside gently kissing the gem. Embellishing with a series of elaborate beadworks, this piece presents an excellent sheen with a touch of delicacy. Show you brilliance and tenderness; this delicate piece is a symbol of your unique fashion taste, and it's also the best gift for someone you care about.
Shining With Passion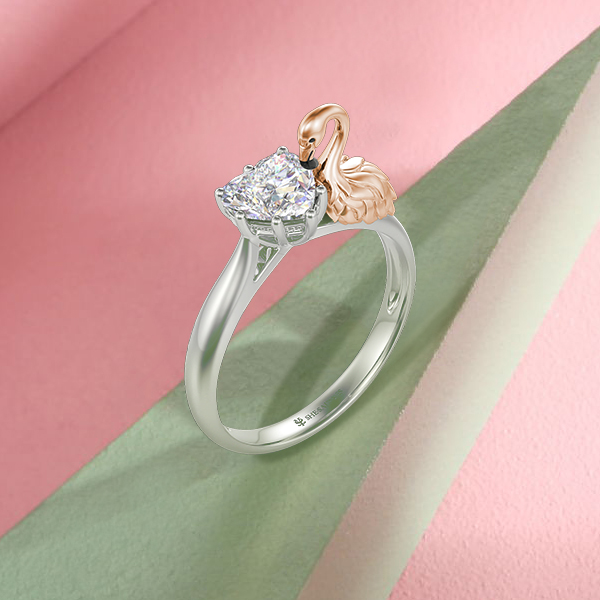 Quickly associated with the tropics, Flamingos are flamboyant, elegant, and romantic creatures. Their graceful appearance is adorned by people around the world. Show your love and passion with this sophisticated flamingo ring is an ideal choice. Crafted with the sleek metal of your choice, this stunning ring embeds a heart-shaped center stone glistening with charming radiance gorgeously. Exquisite, the elegant flamingo stands aside from the center stone, and this graceful piece will lend you a glamorous look in daily life.
Puppy Love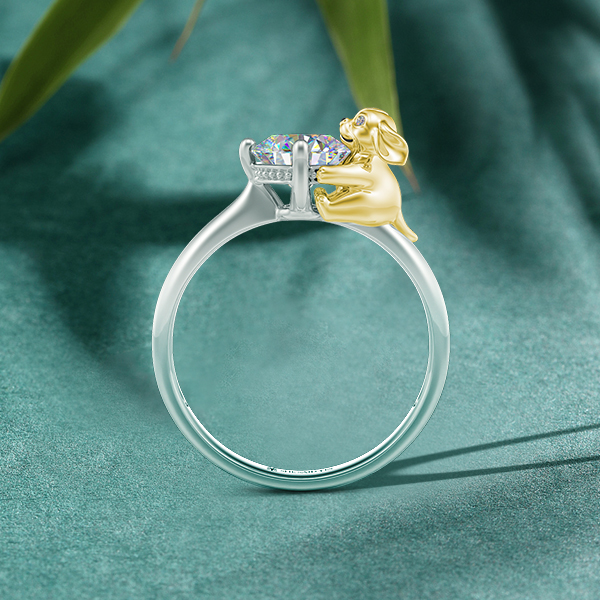 No one could refuse the love of a puppy. They're happy and cute and full of energy throughout life. So if you are a true dog lover, why not try our adorable rings to express your passion for it? Featuring a petite Spaniel hugging the scintillating round-cut center stone set in four prongs, this ring perfectly showcases a sweet vibe of love towards life and animals. Such a great gift to please your lover and yourself.