Love is an emotion that makes us feel so many things. It exists in every tariff of our life. Every greeting, hug, and kiss would be a token of sincerity. Now that the sweetest Valentine's Day is coming, it's time to show your passion and romance to her with something significant. A fine piece of a moissanite ring is always ideal for girls. If you're still hesitating about moissanite, take a quick look at this guide.
Dainty Moissanite Ring – Sun Glint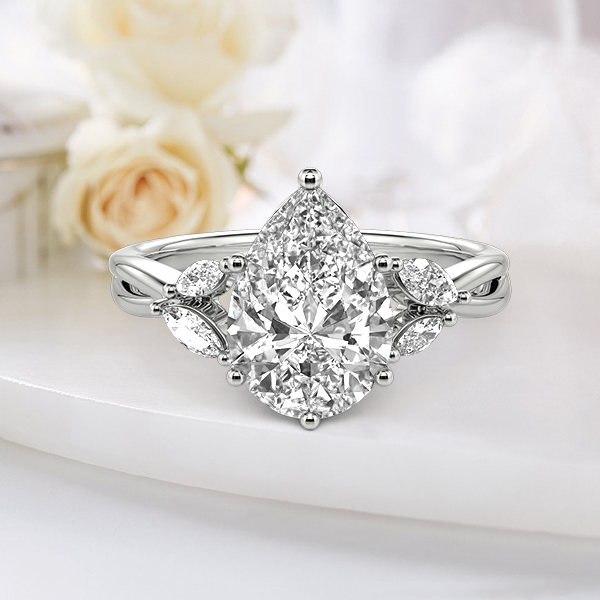 Lend you a touch of retro style with this dainty engagement ring. Radiating warmth and light, it features a sparkling Pear-cut moissanite in the middle to catch the breathtaking radiance. And a sleek shank intertwined with several marquise-cut buds towards the center for a natural vibe. Shining brightly on your big day, the engagement ring from SHE·SAID·YES is available in gold, white gold, and rose gold. It's a dream one for declaring your vow and pursuing a bright future.
You Are the One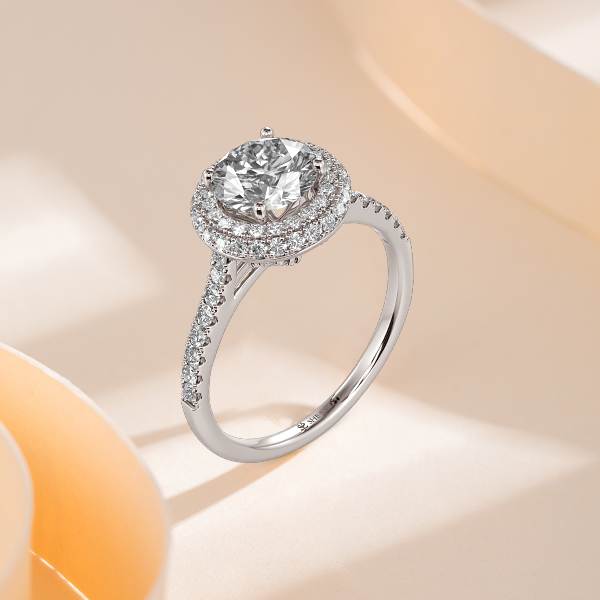 This stunning jewelry is charming for its unique, timeless elegance. Each stone is so dazzling on this round-cut halo engagement ring. Prongs of karat gold hold each stone sturdily in place, showcasing Round cut accents flowing next to a beaming round-cut moissanite center. So thoughtfully crafted, each stone down the band is gorgeous, maximizing stone fire and brilliance. Combining both a modern look with a traditional style altogether, it's a piece full of craftsmanship that brings out charming glamour for your darling on a special day.
Oval Design Moissanite – The Bright Star
Blending the timelessness and elegance of the engagement ring, this stunning accessory will be your heirloom forever. Its elegant minimalism makes it the most popular design ring for customers. Firstly, this modern-style ring features a sizable oval-cut moissanite with astonishing brilliance in the middle. Also, the polished-surface shank delicately features a graceful split design, making you the brightest one on the big day. At last, refracting the natural sunshine into dazzling sparkles, it's a perfect gift for that special someone in your life.
Ingenious Moissanite – Fight For You
A beautiful present to memorialize a significant path with your beloved or friend. The ingenious design of this ring highlights the dazzling center row of paved moissanite accents. It is further enhanced by two round-cut moissanite sets in a symmetrical way on a twisted metal band, giving it a modish appeal. Finally, they complete your look with grace and style. Designed to be stacked with other pieces from SHE·SAID·YES or styled as a standalone piece, it's set to become your newest wardrobe staple. I'll always fight for what I love and do whatever it takes to be happy.
My Little Sun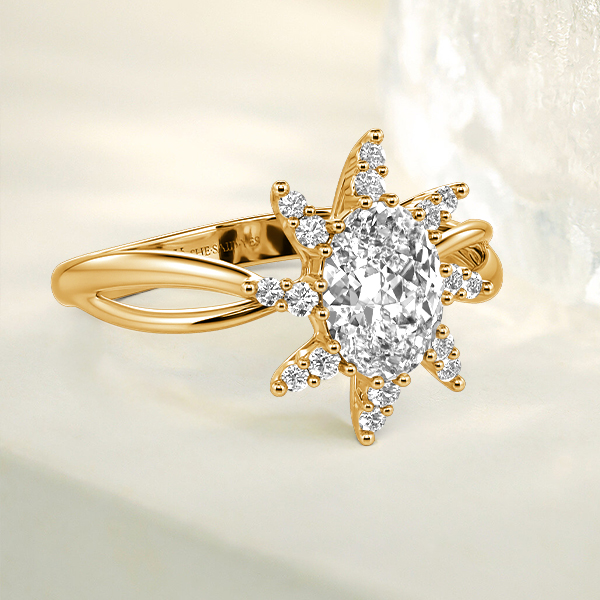 A pleasant design is sure to attract her interest, and the exquisite craftsmanship is on full display in this scintillating ring. This halo engagement ring exhibits a sparkling oval-cut center stone on the cathedral shank. Further completing this fascinating look are shimmering round-cut accents encrusted in the sunburst style. A classic and sophisticated gift for a loved one, whatever the occasion. You are my little sun, and when you shine on me, I feel love.