Want to make your wedding more meaningful and memorable? Then why not try having a big and romantic Christmas wedding with your partner this winter? With colorful, dazzling glitter and a beautiful Christmas tree to capture every detail of the wedding of a lifetime, SHE·SAID·YES has prepared a comprehensive Christmas wedding guide for you. Check it out!
Start with the Jewelry Tones
Normally, it seems the world is filled with the peace of grey and white in the winter. However, Christmas will change everything about that with its bold and charming jewelry tones. The royal green, glamourous red, sparkling golden, and sliver hues always appear in people's eyes vividly and suddenly, breaking the dull and rigid winter. These bright colors are most welcomed and essential for creating a romantic Christmas wedding.
Please try to choose these Christmas-themed, saturated colors as your wedding theme colors. And pair them with very shiny metallics and modern neutrals that are very popular this year to complete the entire wedding venue, from large to small.
In most Christmas weddings, rich colors are often not reflected in the newlyweds, so the newlyweds try to choose appropriate and warm wedding clothes can be. Of course, a little shiny sequin decoration is very good. Guests can wear bright jewel-colored dresses and suits that match the main color of the wedding, blending in with the environment while also highlighting the presence of the newlyweds.
Set the Christmas Scene
What's a Christmas-themed wedding without Christmas trees? Greenery is the go-to and natural choice for a Christmas wedding; remember to use it appropriately. Mistletoe is always the first choice. You can strategically hang it around the room to add a little extra romance to your wedding. Other than that, decorate the end of the aisle with pine, holly, or fir branches. Topped with other seasonal plants for accent. Perhaps you could also take a surprise and decorate the wedding table with potted solanaceous flowers, a staple at this time of year.
Plus, some classics such as mid-century modern rental furniture, textured linens, and flocked Christmas trees are typical Christmas-style décor. And an intense holiday atmosphere can easily showcase whenever they are there. Please don't forget to develop starry lighting effects. The sparkle can make a huge impact without spending a fortune.
Serve Festive Foods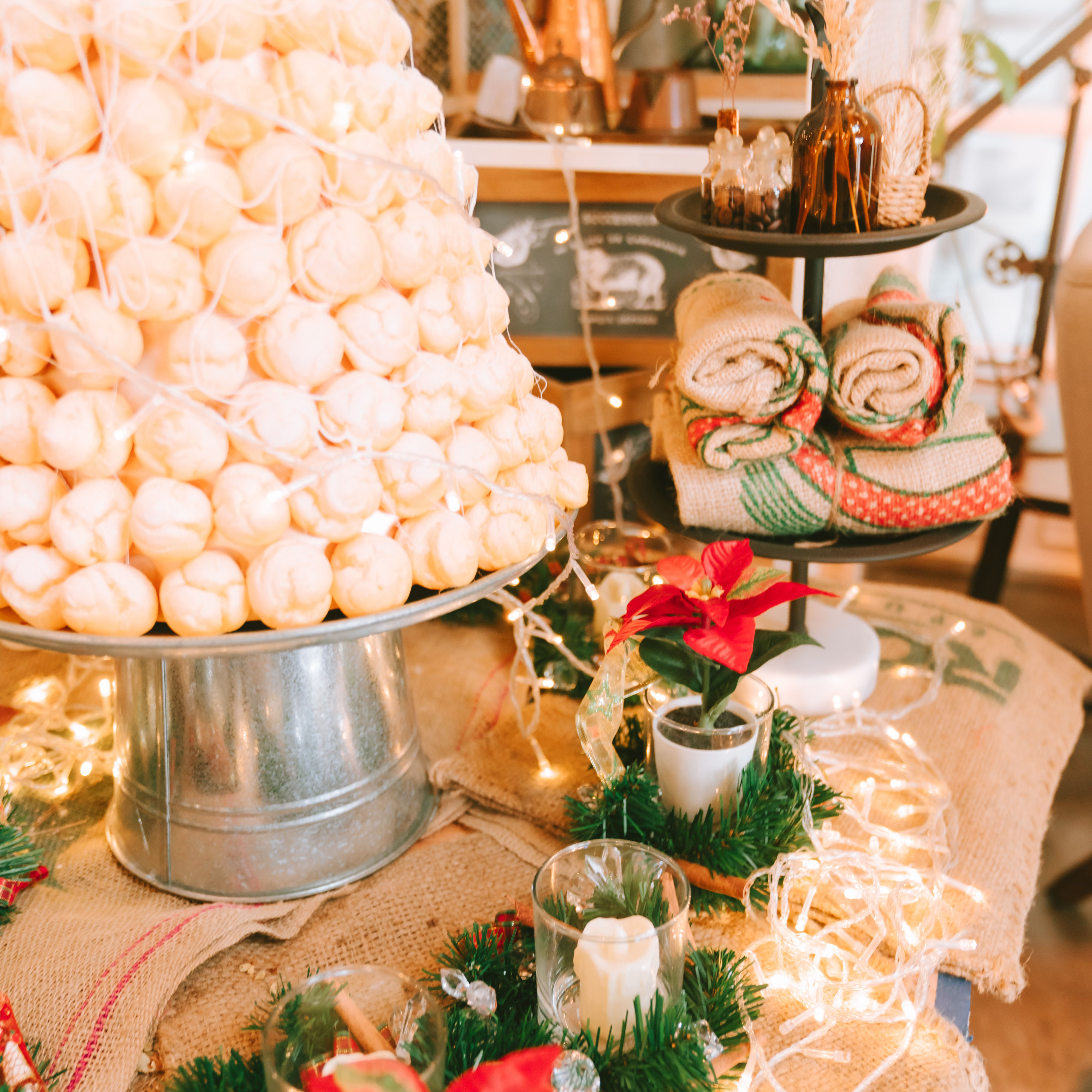 To complete a perfect Christmas-themed wedding, the last and most crucial point is to feed your guests' tummies with rich and delicious food. In terms of drinks, add flavors like eggnog, mint, and cranberry to your holiday drinks after the ceremony. It is an appropriate and subtle way to add a touch of Christmas charm. Main courses can be served with some hot mince pies, kebabs, and stews, which are always the first choice in winter. For snacks, don't forget the elaborately decorated gingerbread, toffee, Christmas pudding coffee, or hot cocoa.