As you embark on the journey to plan your dream wedding, there's one crucial aspect that deserves special attention: your wedding bands. These timeless symbols of love deserve careful consideration to ensure they complement each other and reflect your unique style. From metal color and width to diamond quality, every detail matters. In this guide, we'll focus on the wedding band styles and explore the art of pairing, offering tips and inspiration to create your favorite ring set!
Classic pave wedding band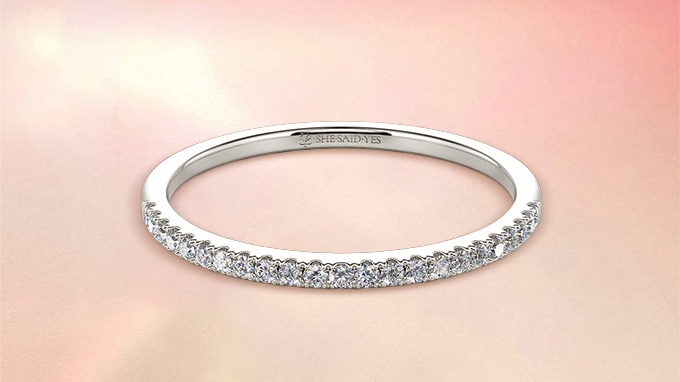 A classic pave wedding band offers several benefits. Firstly, it features a row of small diamonds set closely together. This design creates a continuous sparkle and adds elegance to the ring. Meanwhile, the pave setting allows for maximum light reflection, enhancing the brilliance of the diamonds. Secondly, the smooth and sleek design of a paved wedding band makes it comfortable to wear. Furthermore, a classic pave band beautifully complements a wide range of engagement ring styles. For example, the solitaire, halo, three-stone, and vintage-inspired designs. Its timeless and versatile nature allows it to enhance any engagement ring's sparkle and elegance effortlessly.
Criss-cross wedding band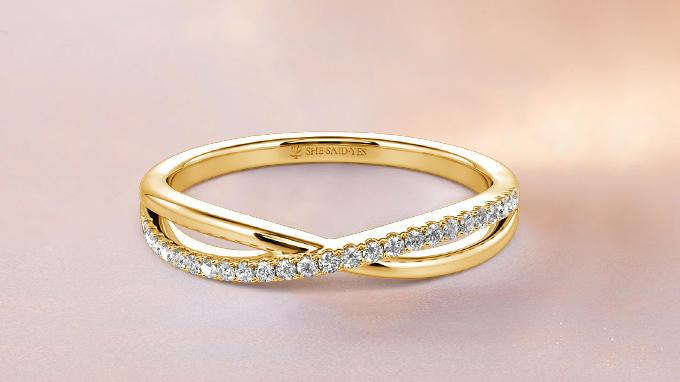 A criss-cross wedding band offers versatility with its unique design and enhanced sparkle. It can complement various engagement ring styles, such as solitaire, three-stone, halo, twisted, split, and even custom designs. It allows for a personalized and cohesive ring set. The intersecting bands create a distinctive look, and the open spaces provide a comfortable fit. Additionally, the option to stack the criss-cross band with other rings adds to its versatility. This feature makes it a stylish choice for those seeking a visually appealing and customizable ring set.
V-shaped wedding band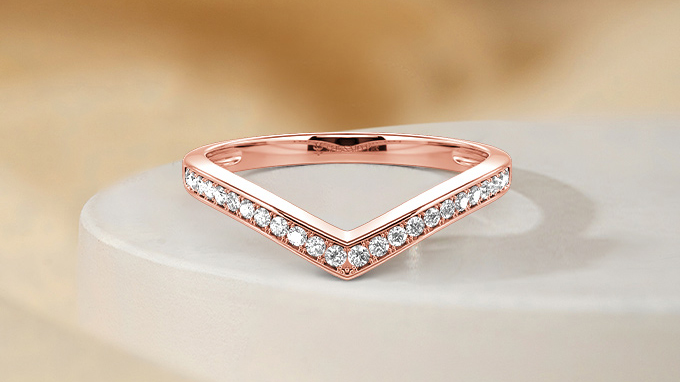 A V-shaped wedding band offers a perfect fit with engagement rings, especially those with a higher center stone. On the one hand, it creates a beautiful contour and enhances the overall ring stack. On the other hand, the V-shape adds uniqueness and modern flair. Therefore, it can be paired with various engagement rings like solitaire, three-stone, side-stone, and halo designs. Also, it complements stone shapes such as pear or marquise cuts and works well with vintage or art deco styles.
Eternity wedding band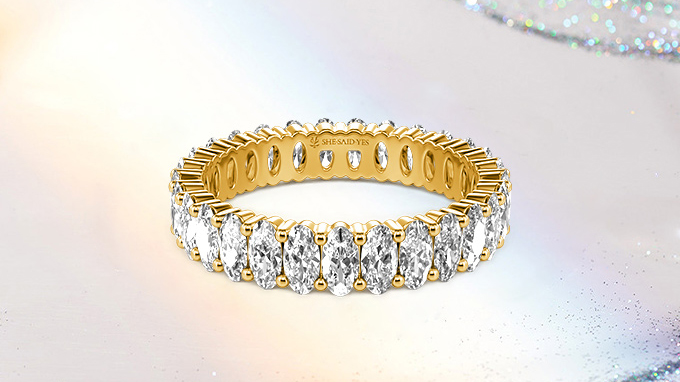 Pairing engagement rings with eternity rings can create different sparks. Firstly, the continuous sparkling stones on the eternity band enhance the overall brilliance and glamour of the ring set. This combination creates a stunning and eye-catching display. Secondly, the eternity band symbolizes eternal love and commitment, a meaningful addition to the engagement ring. Furthermore, eternity bands can pair well with various styles of engagement rings, including solitaire, halo, three-stone, pave-set, and vintage-inspired designs. They can add an extra touch of elegance and sophistication to any chosen style.
Twisted wedding band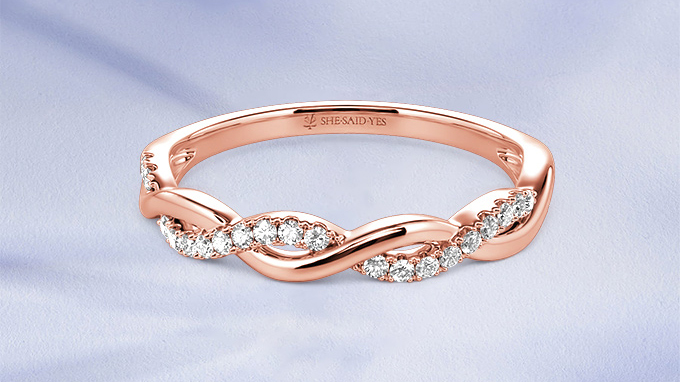 A twisted wedding band can add a touch of elegance and individuality to your ring stack. Firstly, the intertwining metal creates a dynamic and stylish look. Meanwhile, it also symbolizes the intertwining of your lives and the journey you're embarking on together. Secondly, this versatile band can be paired with a variety of engagement rings. For example, the solitaires, halo settings, vintage-inspired designs, and even colored gemstone rings. This makes it a versatile and complementary choice for any style of engagement ring. Additionally, the twisted design also adds texture and visual interest to your ring stack. It is the design makes it stand out and creates a captivating and fashionable look.