With rising temperatures, blinding sunshine, and cold sodas on the horizon, are you ready to get started on a romantic summer beach wedding? SHE·SAID·YES has prepared a list of tips for your beach wedding. Check it out!
Pay Attention To The Weather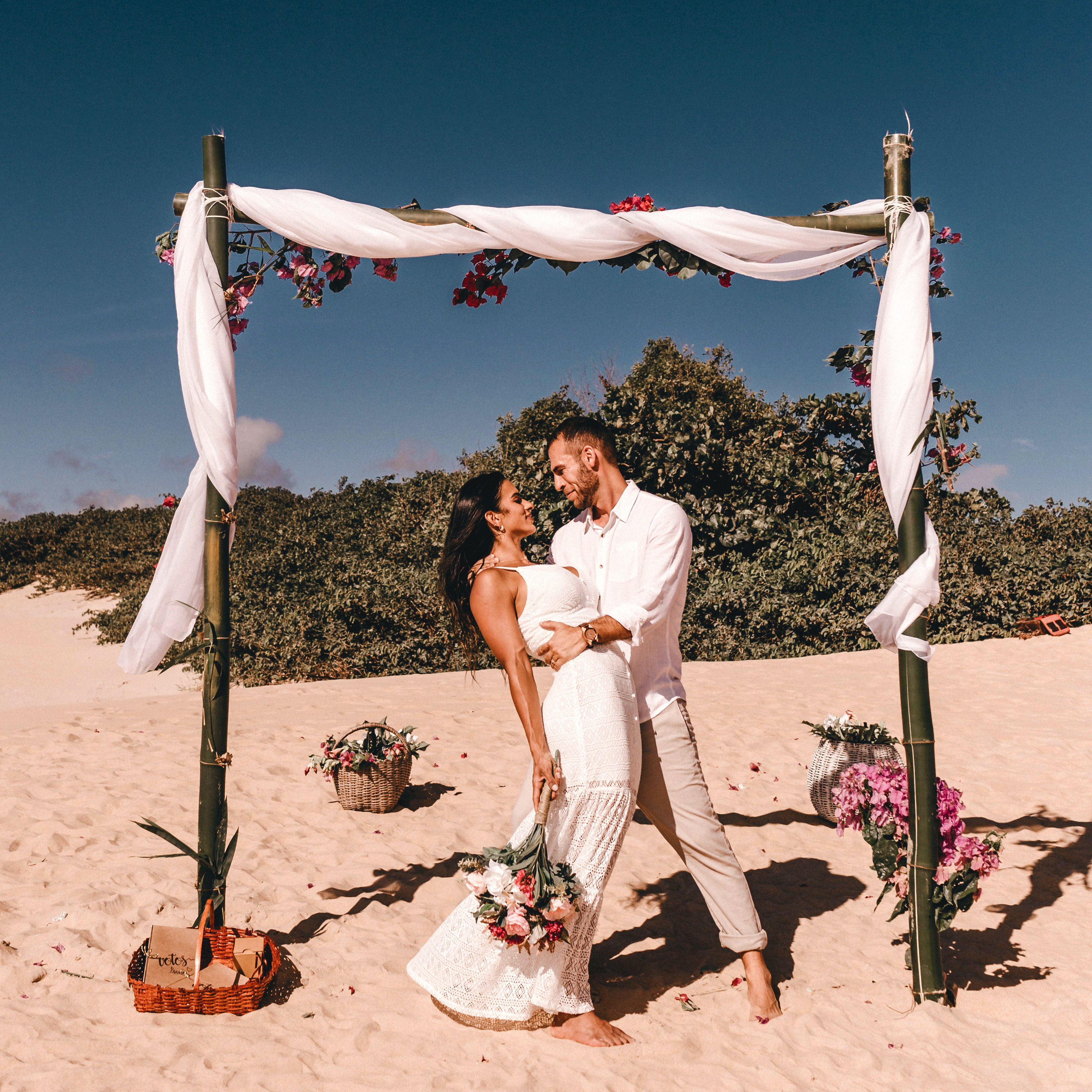 For a perfect beach wedding, the weather is the number one goal to keep in mind. A sunny day with too much sunshine may make the wedding venue look unparalleled marvelous, but it can also sunburn everyone involved in the wedding to varying degrees. And gloomy weather may attract rain, thus ruining the whole romantic beach wedding.
So when preparing a beach wedding, you should remember to keep everyone cool by scheduling your ceremony at a time when the sun is most mild – morning or late afternoon is best. Building a fabulous tent with waving light drapes could solve this problem flawlessly and create a romantic vibe.
Fresh Sea And Island-style Decor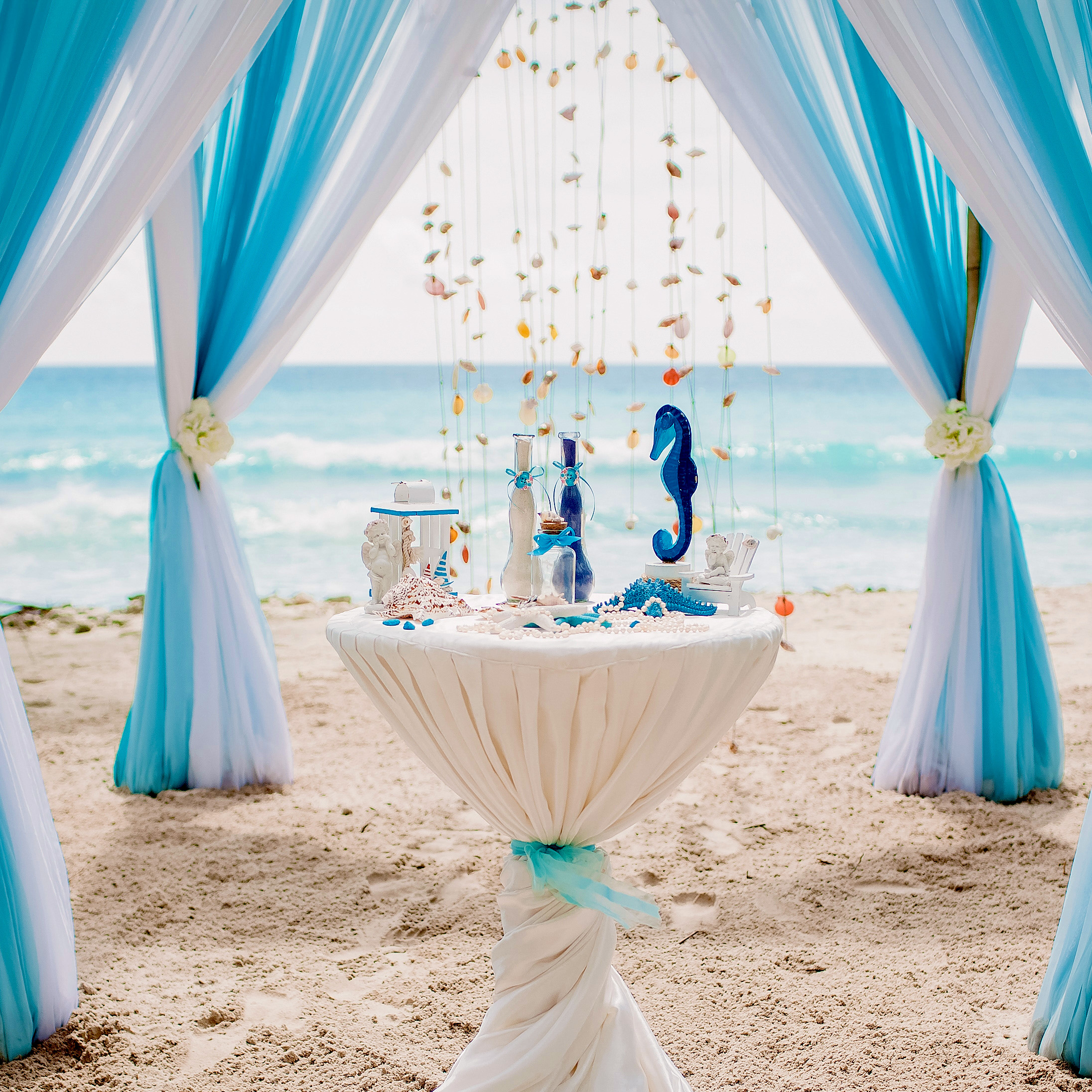 Bring a natural sense with fresh green plants. As the most popular plant decor for beach weddings, palm leaves are absolutely fantastic for their huge and unique appearance. Decorate for wedding arches and banquet tables, or tie them to chair backs to create a naturally fresh vibe.
Besides the vibrant green, the creamy-white with natural tones of various shells, bright-colored coral, and various pretty pearls from the ocean could also give your wedding a brand-new sense. These delicate decors are popular for wedding attire decorations. You can dot them on your hairstyle, dress, and precious jewelry to present a mermaid-like charm.
Another thing you should take care of is ensuring your decor has a decent amount of weight to keep it from being blown away by the sea breeze. Using sticky springs to hold them in place is a great and convenient way.
Wear Light On Attires
Typically, It's weird to wear a deep color for beach weddings. Because dark-colored clothes, especially black, absorb more heat than light colors. So almost people wear light-colored clothes for beach weddings. Mint, white, cream, rose gold, and a series of neutral tints are welcomed for shining summer.
Not only the colors but the texture of the clothing also needs to be light. Therefore, clothes made of breathable material are ideal for beach weddings. Ladies could pursue a simple sundress, breezy maxi dress, or high-quality romper without lace, match with a pair of dressy sandals to fulfill their beautiful looks. And for gentlemen, nice, short-sleeved shirts like polos are excellent and nice shorts with a belt. Moreover, if the couple permitted, all the guests could bare feet to enjoy the sand.
A Local Delicious Seafood Menu
Providing a delicious wedding banquet with various seafood and fruits will definitely leave a great impression on your guest. The dishes and cocktails should be based on the wedding destination of your choice and let the guest taste the natural, local seafood. Also, don't forget to serve cool coconut water, pineapples, papayas, and multiple tropical fruits, which are the best choice for beach weddings.
Other tips you should care about are choosing foods that can handle some temperature and avoiding anything that will melt or spoil easily. And keep the wind from blowing sand onto your delicate banquet table, negatively impacting your delicious dishes.