Spring comes with warmer weather, longer days, and everything vibrant. So it's time to have a spring wedding in such a beautiful blossoming season. Under the decoration of flowers and delicate jewelry, the beautiful bride will be the crowd's focus. Inspired by various flowers, our delicate jewelry from the JUST BLOOM collection is also suitable to witness your lifetime happiness.
Artistic Floral Ring – Face to Love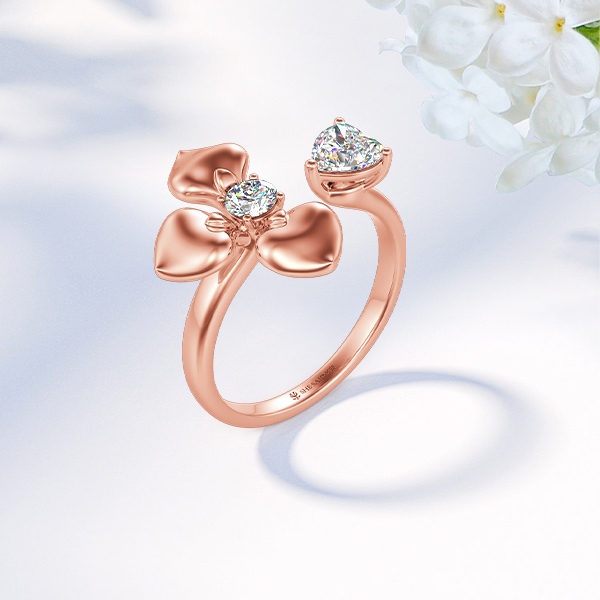 Chic and dainty, a masterpiece of elegance and romance. This open ring features a round-cut stone raised high by three polished petals and a heart-shaped gemstone shining beautifully as a single petal to complete this artistic work. The entire ring showcases a look of graceful four-petaled hydrangea, expressing the profound connotation of grace and beauty, hope and love. This romantic piece is definitely the icing on the cake when paired with a beautiful bouquet in the bride's hand. The flowers in the palms will wilt and won't last forever, yet this delicate floral ring will witness your love and happiness for a lifetime.
All of Me Loves All of You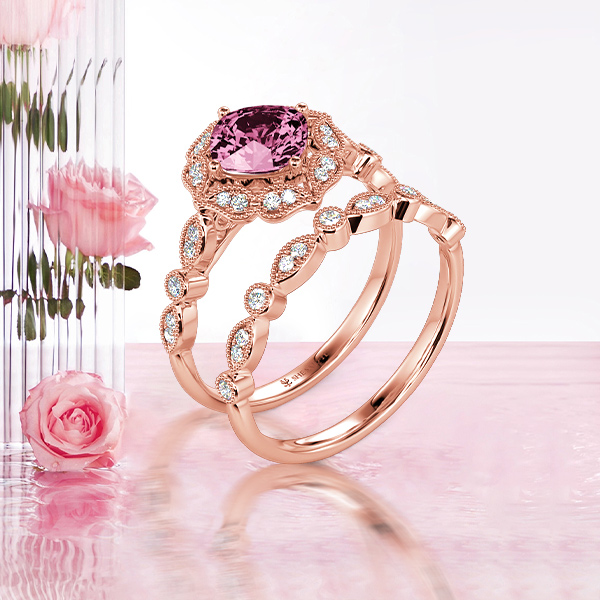 If you are looking for a bridal set suitable for the modern and stylish bride-to-be, this one must be an unmissable choice. Firstly, this bridal set features a cushion-cut center stone nestled in prongs. And the surrounding unique glimmering halo makes the head into a blooming flower shape. Moreover, several round-cut gems on the shank are set in an elegant series of round and marquise shapes. Finally, the milgrain modified on the edges will drive you back to retro fashion, and the mirror-matched wedding band is quite suitable for everyday wear. Promise to stand by her side with this floral ring, and she'll give her all to you.
Bypass Floral Ring – Swaying Flower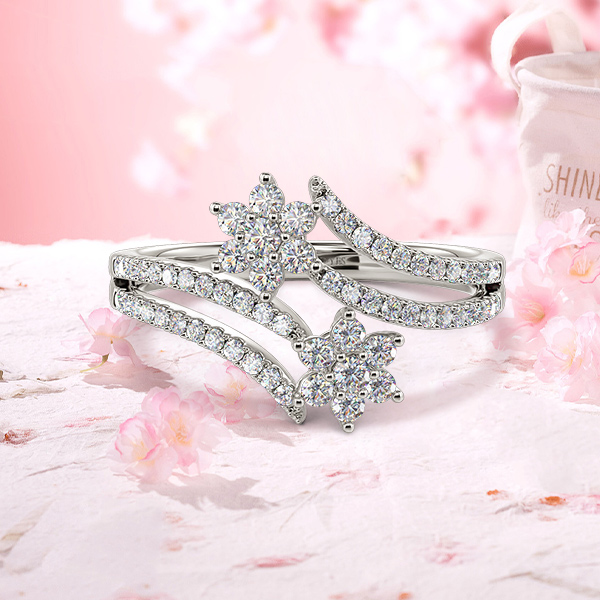 Drawing inspiration from the cherry blossom, this appealing floral ring will make a fresh impression on you. On the one hand, paved with various round-cut gems, two bypass splits make the shank exudes dazzling brilliance. On the other hand, six round-cut gemstones cluster around an identical gemstone, forming a floral motif on two splits. Just like cherry blossoms swaying on the branches in spring, presenting a charming look. Reflecting a brisk vibe for you, it is a fabulous present to achieve your dream. Besides, the cherry blossom symbolizes life, happiness, and purity. So put this beautiful ring on her and show your life-long pure love to her.
With Every Beat Of My Heart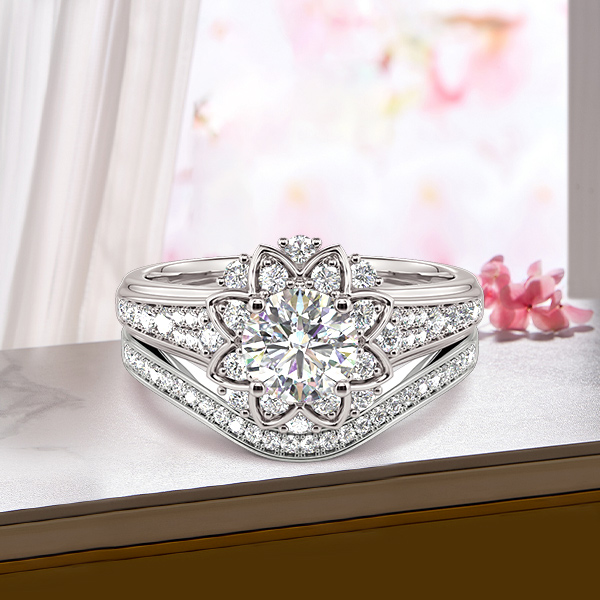 True love at first sight. The engagement ring features a magnificent lotus set with a round-cut center stone as a pistil. Every lotus petal is also adorned with glistening small round stones, adding more sparkle to the ring. Accents on the band give a further boost of extra sparkle. The classic wedding band gets a chic update with a slightly contoured design. Showcasing a row of sparkling stones in a subtly graduated design. It will absolutely make your heartbeat. Additionally, the matching wedding ring displays a simple but unique style, featuring sparkling round-cut gemstones channel-set into a curved shank. Its design makes it possible to match different engagement rings.
Floral Bridal Set – My Sunshine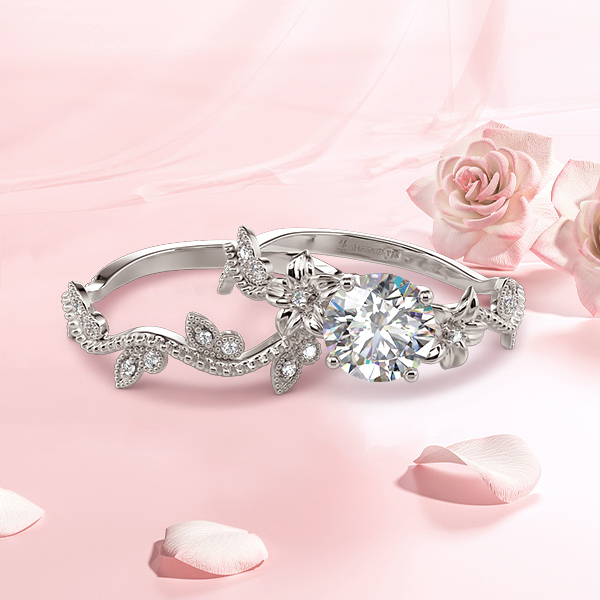 Elegant and delicate, this bridal set perfectly shows feminity. Surrounded by the floral and leaves pattern studded on the cathedral shank, a charming round-cut center stone sparkles on the top. And tiny glistening accents with milgrain details on the matching band enhance the overall look for a dash of splendor. In addition to the sparkling gems, the two lilies on the shoulder are the most eye-catching. Carefully treated metal and exquisite craftsmanship make the flowers come to life. Lily symbolizes the beauty of women and represents a pure heart. Give this set to your beautiful bride to show she is your lily. Her purity is just like the sunshine, driving away the haze in life.