It must not be easy to prepare a Valentine's Day gift for your closest significant other. For most women, men's fashion aesthetic is always difficult to grasp. They seem to be easily satisfied yet also have their own unique preferences. For the sake of consideration, SHE·SAID·YES has prepared this article for you on the best men's ring. Check it out now!
Minimalist Style Men's Ring – Endless Waiting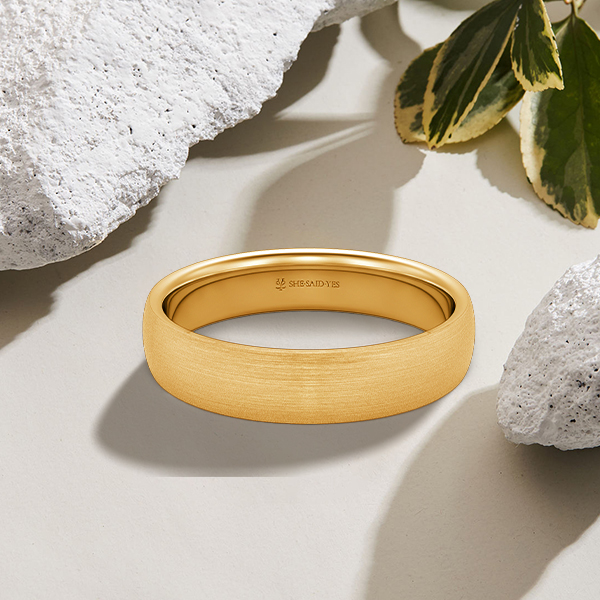 Want to surprise your loved fiancé with something beyond his imagination? A piece of classical and timeless wedding band should be the most ideal for your man. Our minimalist wedding band features a very simple design that is perfect for most men's fashion tastes. Firstly, it's crafted with a spectacular Matte Brushed texture and flat edges at all points. Then it's available in the precious metal of your choice, available in gold, rose gold, and white gold. Finally, highlighting a contemporary style, its low-key sense adds a touch of uniqueness to men's looks with ultimate comfort.
My Hope, My Inspiration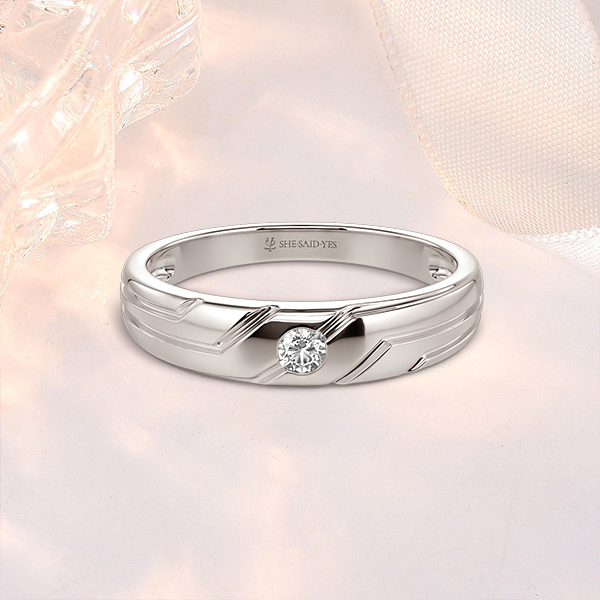 If your beloved him prefers a more delicate style, then try this fascinating men's wedding band. Stylish and graphic angles blend with precise and intricate lines to create a piece of on-trend jewelry. Brilliant and fashionable, this men's band of SHE·SAID·YES unveils a glimmering round-cut center stone studded tightly in the center of the ring. And the engraved asymmetric patterns of modern lines on the polished-finish shank add to its distinctive aesthetic look. So when you walk down the aisle, I see my hope, my inspiration, and my angel.
Timeless Men's Ring – You And Gentleness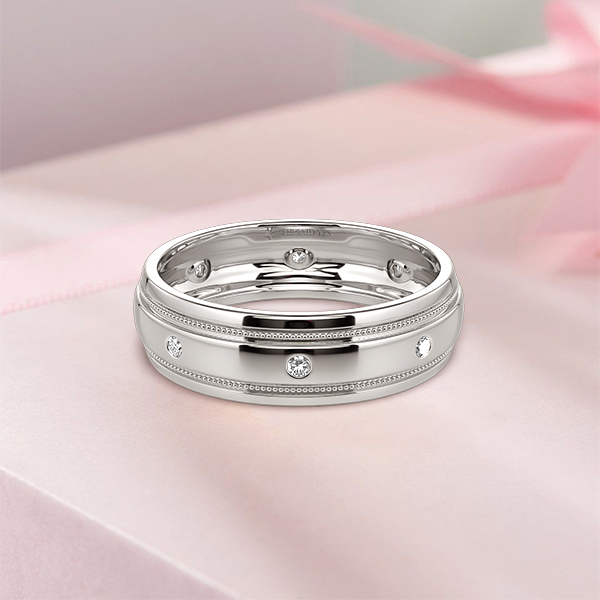 Simple yet striking, this timeless wedding band is sure to turn all eyes with its classic appeal. The excellent design of SHE·SAID·YES" makes all kinds of colored gemstones and precious metals realize all his dreamed men's jewelry. This stunning wedding band features a simple and neutral style. Eight shimmering round-cut accents are set in a bezel setting to enhance its brilliance. At the same time, double rows of milgrain embellishments add vintage details to show gentleness. Lustrous with a highly polished shank, it's an innovative icon of the wedding band.
You And Me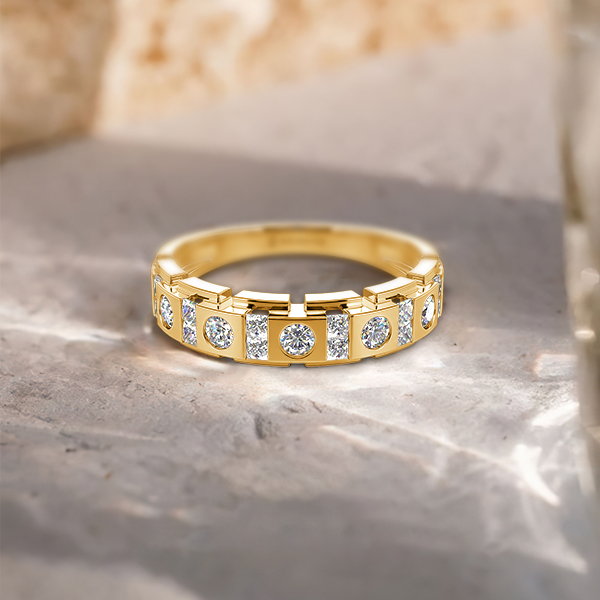 Well-made rings have a rounded interior specifically designed for the most comfortable all-day wear. In addition, our sparkling men's band features several small scintillating stones in round and princess shapes. All these brilliant accents are inlaid in the bezel of the unique square-designed shank with a highly buffed finish. Moreover, embellished accents in a channel setting offer you extra splendor and charm. All in all, offering him a charming geometrical style makes a fashionable announcement. Love is you and me, and love knows we can be.
Carved Love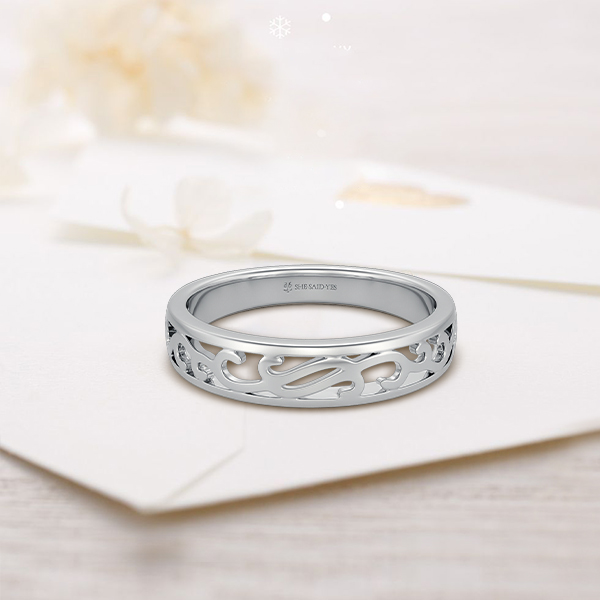 The intricate design with various intricate vine patterns resulting an unrivaled display of sophistication. With the unique hollow shank of the band, this striking men's wedding ring is carved with elegant scrolls inside the polished metal band. In addition, the sleek lines depict a particular vine-liked pattern, creating a vintage style full of details. Forged of flat edges, this precious artwork can fit the finger of your lover perfectly.