On January 26, 1905, the largest rough diamond in the world was found at the Premier No.2 mine in Cullinan, South Africa. Weighing 3016.75 carats, it was named after Thomas Cullinan, the owner of the mine, and was sent to Amsterdam to be cut by Joseph Asscher & Co into big nine pieces. Two years later, the first two pieces of this magnificent diamond were bought by the Prime Minister of the Transvaal Colony government and presented to Edward VII for making jewelry.
Cullinan I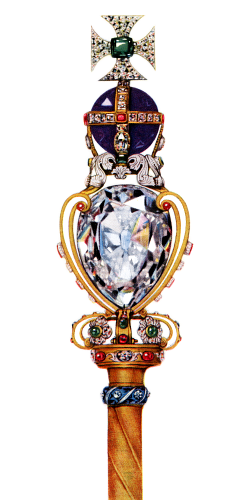 The Cullinan I, also known as The Star of Africa, weighed 530.20 carats and is the biggest piece of the cut Cullinan Diamond. With 74 facets, it was the largest glossy diamond in the world until the 545-carat Golden Jubilee diamond in the Premier mine. This brilliant diamond embellishes the head of the Sovereign's Sceptre with a Cross. Not only was it the part of the scepter, but it also had loops that could adapt its setting to create a dazzling pendant suspended from Cullinan II to make a brooch.
Cullinan II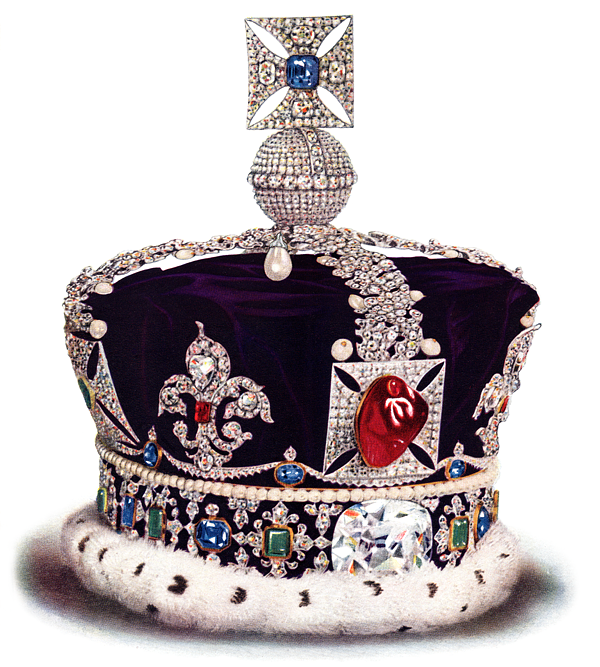 Cullinan II, or the Second Star of Africa, featured an elegant cushion shape brilliant with 66 facets weighing 317.4 carats. Like Cullinan I, Cullinan II also belongs to the United Kingdom of the Crown Jewels. It is inlaid in the front of the Imperial State Crown below the Black Prince's Ruby (a large spinel). The crown was originally created for the coronation of Queen Victoria in 1838.
Cullinan III
Known as the Lesser Star of Africa, Cullinan III is a pear-shaped diamond weighing 94.4 carats. In 1911, George V's wife, Queen Mary, placed it on the top cross pattée of a crown she had personally purchased for her coronation. The Cullinan III is so versatile that Queen Mary has worn it several times with different jewelry. For example, it can be a delicate brooch in combination with Cullinan IV and replace the 22.4-carat Lahore Diamond as a pendant on the Coronation Necklace.
Cullinan IV-IX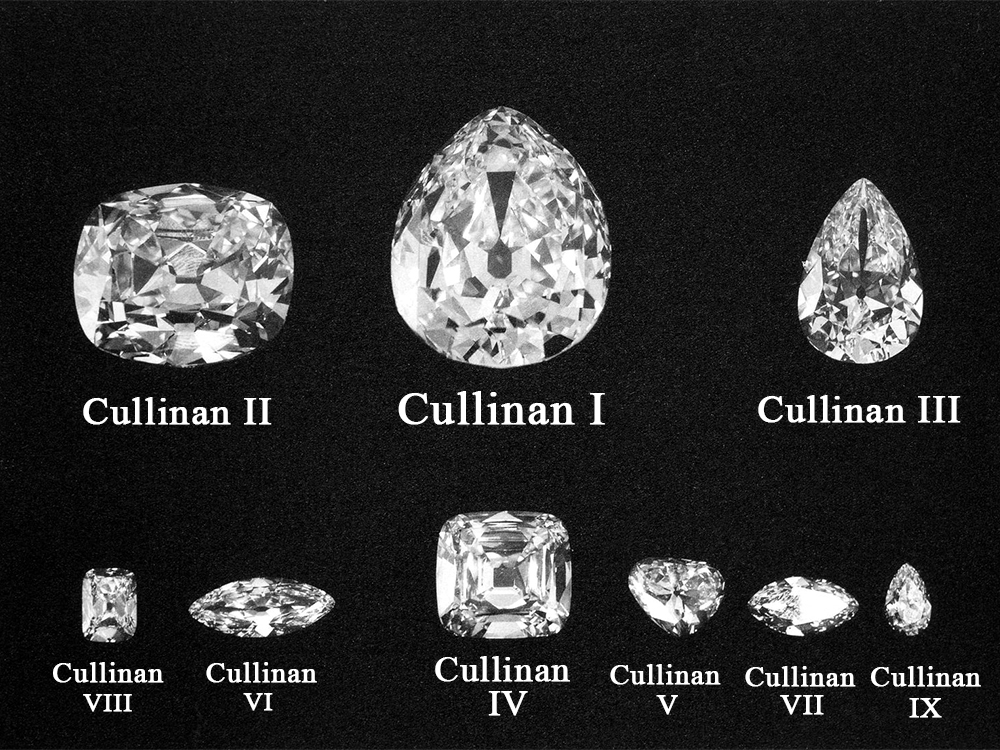 Seven other major diamonds weigh a total of 208.29 carats.
Cullinan IV weighs 63.60 carats and is in cushion shape. As mentioned above, it can also match with the Cullinan III to make a piece of jewelry.
Weighing 18.80 carats, Cullinan V is a triangular-pear shape diamond in a brooch for Queen Mary.
As an 11.50-carat marquise-cut diamond, Cullinan VI was King Edward's present to his wife, Queen Alexandra.
Cullinan VII, an 8.80-carat marquise-cut diamond set in a pendant on a small diamond brooch containing Cullinan VIII.
Cullinan VIII is an oblong-cut jewel weighing 6.8 carats. Together with Cullinan VI, it forms a brooch.
Cullinan IX is a 4.39 ct diamond with a pear shape in a ring with prongs of Queen Mary.