Experience the rising popularity of beach weddings as couples are drawn to the allure of their natural and picturesque setting, relaxed atmosphere, destination appeal, intimate nature, and unique experience. In search of enchanting decor options to elevate your ceremony? Look no further! SHE.SAID.YES presents five popular beach wedding decor ideas that will transport you to a world of dreamy and unforgettable moments.
Bohemian Bliss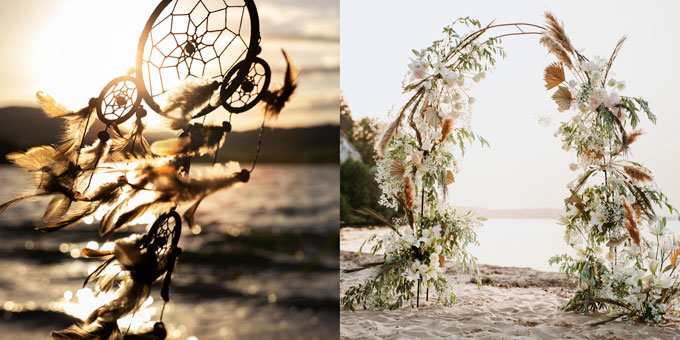 This trendy beach wedding decor idea showcases a captivating and bohemian aesthetic. Create a stunning macrame backdrop for your ceremony or reception area. This visually striking focal point will immediately captivate your guests' attention. Then, continue the whimsical ambiance by hanging dreamcatchers adorned with feathers and beads throughout the venue. These dreamcatchers will add a touch of enchantment to the overall decor. To further enhance the organic and natural feel, incorporate a variety of wildflowers, such as daisies, sunflowers, and lavender, into loose and effortless floral arrangements. These vibrant blooms will infuse the space with color and evoke a romantic atmosphere. Finally, complete the relaxed beach vibe by incorporating vintage rugs, poufs, and low tables to create a comfortable lounge area. This inviting space will allow guests to mingle, relax, and fully enjoy the beautiful beach setting.
Tropical Paradise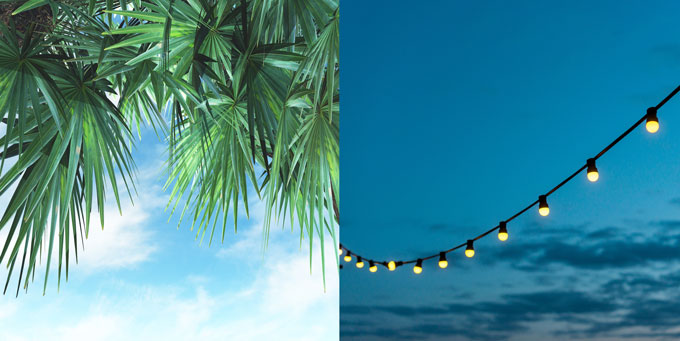 Indulge in the enchanting allure of a tropical paradise for your beach wedding. Start by adorning the ceremony arch with lush palm leaves and vibrant tropical flowers such as orchids, Birds of Paradise, and hibiscus. This combination will create a visually stunning focal point that embodies the tropical vibe. To add an extra touch of exoticism, create a delightful tropical fruit display featuring pineapples, coconuts, and a variety of colorful fruits. Not only will this serve as decor, but guests can also enjoy these refreshing treats. As the sun begins to set over the beach, enhance the magical ambiance by hanging delicate string lights between palm trees or overhead. This soft illumination will create an unforgettable atmosphere for your special day.
Nautical Elegance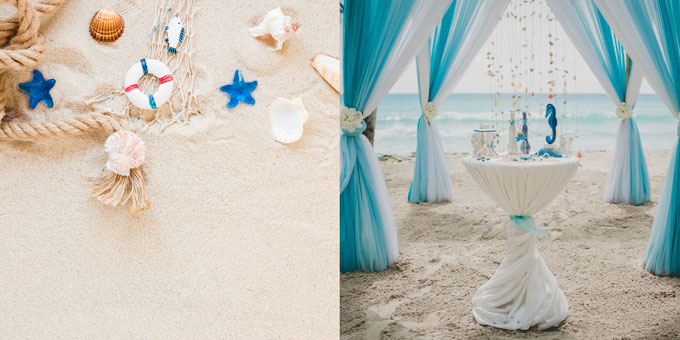 For a timeless and sophisticated look, select a nautical theme with an elegant twist. Opt for navy blue and white as your primary color scheme, incorporating striped patterns into the decor through table runners, chair sashes, or cushions. To create a romantic ambiance, you can use lanterns adorned with flickering candles that cast a warm glow. Also, you can infuse the nautical elements throughout the decor by incorporating ropes, anchors, and seashells as accents. Moreover, for a stylish and eye-catching centerpiece idea, consider utilizing tall glass vases filled with white sand and adorned with miniature sailboat models. This unique centerpiece will add charm and elegance to the overall aesthetic.
Beach Chic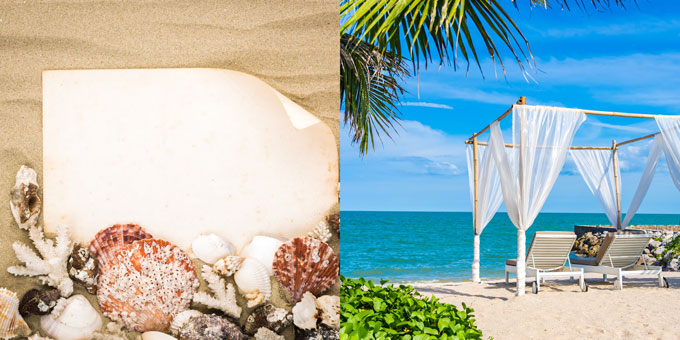 Create an upscale and modern beach wedding decor with a beach chic theme. To achieve this, embrace a neutral color palette, including tones of ivory, cream, and sand. Elevate elegance by incorporating metallic accents like gold, silver, or rose gold, infusing a hint of glamour. In addition, opt for sleek and minimalist furniture, favoring transparent elements such as ghost chairs to create an airy and contemporary ambiance. Furthermore, enhance the romantic atmosphere by draping sheer fabrics or chiffon curtains to craft a captivating backdrop. Also, complement your decor with exquisite touches of sea glass, natural coral, or delicate pearls, beautifully displayed as table centerpieces or small decorative accents. By incorporating these refined elements, you will create a sophisticated beach wedding experience.
Rustic Coastal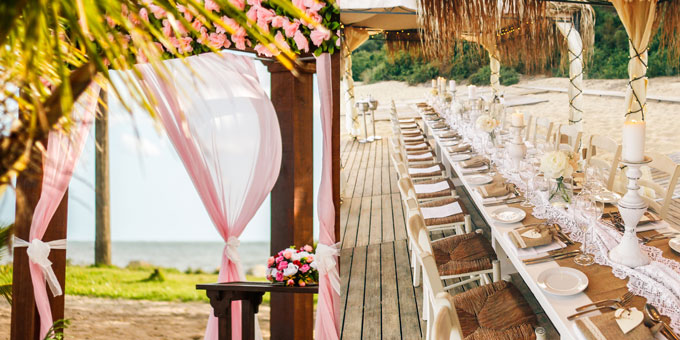 Celebrate the innate allure of the beach with a captivating rustic coastal theme. Embrace the charm of weathered wood by incorporating elements like driftwood or reclaimed wooden arches for an enchanting beach-inspired ceremony backdrop. Adorn tables with burlap table runners, twine-wrapped votive holders, and seagrass chargers infuse rustic details into the decor. For delightful wildflower centerpieces, consider using mason jars or tin cans wrapped in twine, radiating a whimsical touch. Moreover, enhance the rustic coastal aesthetic by incorporating maritime accents such as starfish, seashells, or fishing nets, truly capturing the coastal essence. When combined, these cohesive elements will harmoniously blend to create an unforgettable rustic coastal ambiance.